LA Rams revert TE/WR Jacob Harris to WR. Look for him in Week 9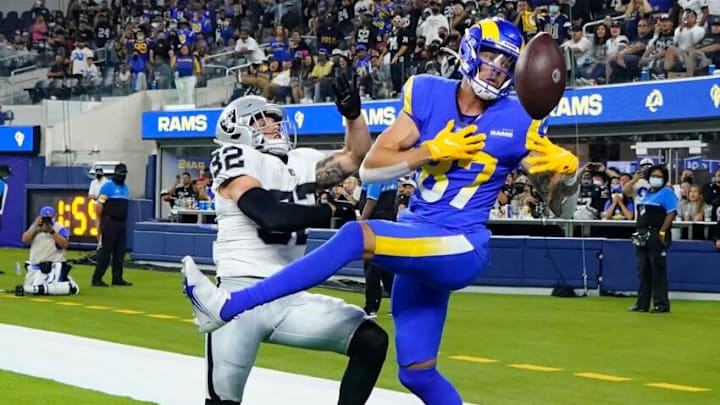 Mandatory Credit: Robert Hanashiro-USA TODAY Sports /
So you feel that the LA Rams offense is short of wide receivers? While that may have been true in Week 8, it will not be the case for Week 9.  After stacking the roster with an additional wide receiver in the form of Jacob Harris, disguised as a tight end, the LA Rams are finally calling Jacob Harris a wide receiver once more.
Sort of like that Daylight Saving Time trick where we fool ourselves into losing an hour from spring to fall, only to restore it months later. Jacob Harris was always a wide receiver. The team just called him a tight end to make the roster appear more balanced. Well, the need to do so no longer exists, so time to place him back into the wide receiver category.

So what does that mean for the team? Perhaps more importantly, what does that mean for Jacob Harris?
Perhaps nothing. Perhaps everything.
Jacob Harris time?
With the release of veteran wide receiver DeSean Jackson and the injury that has ended the season to rookie wide receiver Tutu Atwell, the LA Rams were forced to promote WR Ben Skowronek to the WR4 slot. While Skowronek caught three of three passes for the Rams in that role, the team will not replicate any deep routes by promoting Skowronek.
But the answer to the deep threat may simply be calling rookie wide receiver Jacob Harris a wide receiver once more. The reason? Well, for starters, he runs a 4.39-second 40-yard dash. And the other thing? He is 6-foot-5 and weighs 211-pounds. Big. Fast. Durable.
We had called on the debut for Jacob Harris in Week 8, and he did, sort of. Since the Rams racked up a 38-0 lead, the team pulled the starters and sent reserves onto the field for the fourth quarter of the game. The 'mop up' crew made it onto the field, but reserve quarterback John Wolford threw just two passes and completed one five-yard pass to wide receiver Ben Skowronek.
If the Rams plan to have any benefit from their super-tall super-fast rookie receiver Jacob Harris in the NFL Playoffs, then the time to work him into the offense is now. With the sudden changes at the wide receiver position, this seems to be the ideal week to do so.
Does that mean to load up on Jacob Harris on your Fantasy Football roster? No. But it does mean that the Rams may get him involved in a few plays each game to build his experience and confidence. He is a very difficult matchup for defenses if he is dependable in the Rams offense. So look for the Rams to test his dependability.