LA Rams Sunday Night Football: 3 quick halftime impressions so far.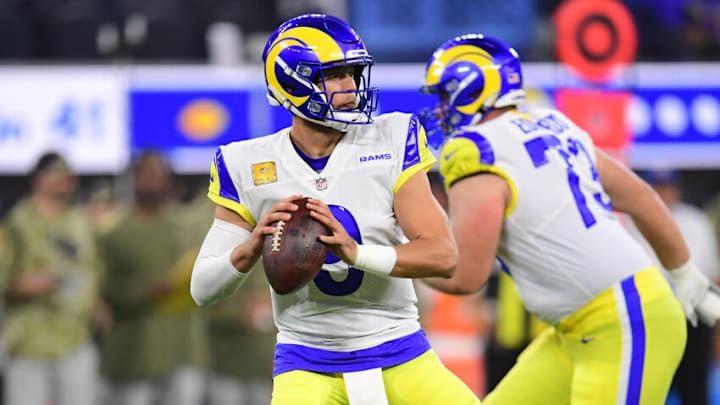 Mandatory Credit: Gary A. Vasquez-USA TODAY Sports /
The LA Rams are competing against the statistical best team from the AFC in their Week 9 on Sunday Night Football. So this is going to be a tough game for 60 regulation minutes. There will be no benching of starters to finish off this one. Each quarter, each drive, each snap of the football, will take everything that this team can muster in this one.
The intensity is real in this one, and the Rams definitely do not appear to be themselves on offense, are their usual selves on special teams, and are showing up pretty well on defense so far. But that is plenty of rhetoric that circles the fact that the Rams appear to be capable of losing this one.
Special teams are no closer
The LA Rams special teams are still in chaos. In this one, the Rams are already getting penalized on kickoff returns, failing to return punts, missing almost certain tackles, and failing to pooch punt within the 20-yard line.
Hey, we get it. The Rams special teams need time to pull everything together. But in the meantime, you would hope that the team would play the percentages. The Rams cycling through new faces to contribute on special teams is not showing many signs of hitting bedrock just yet. And so, the Rams must plan to be disappointed for some time with special teams. If not the performance, then the stupid undisciplined penalties.
Rams defense is showing up huge so far
The LA Rams defense is bearing the brunt of the football game clock so far.  With under 7:00 to go in the second quarter, the Tenessee Titans enjoyed a two-to-one advantage in that very critical Time Of Possession we have talked about at length this year.
Of course, after the Titans has gotten up by a score of 14-3, the Rams defense began its own cycle of stupid drive-extending penalties. The Titans have rushed 11 times for a net of just 13 yards.
With no success running, the Titans have flipped to a pass-heavy offense, and the Rams are now struggling to stop them. But after softening up the defense with some effective passing, the Titans run a quarterback off the end for their third score of the night.
Is it true that Stafford panics in big games?
We had heard and read stories about the one Achilles heel of veteran quarterback Matthew Stafford, and up to now I simply did not believe it. Now? I'm not so sure. Stafford's detractors had pushed the narrative that in the big games when the spotlight of the nation was on that game, Matthew Stafford struggles.
You must have heard it before.  It started with Stafford's 0-3 record in the NFL Playoffs. Before this Week 9 contest, many had described this game in pre-game articles as having a flavor of an NFL Playoff game. In fact, some claimed that the LA Rams and Tennessee Titans may even meet in Super Bowl LVI.
Well, the LA Rams are showing nothing in this one. Matthew Stafford is playing like a train wreck so far in the first half. He is just nine of 16 for 62 yards, no touchdowns, two interceptions, and he has been sacked four times for 35 yards lost. That nets to just 27 yards of offense for the passing game.
The Rams should be running. They have done so 12 times for 67 yards, averaging better than 5.6 yards per carry (YPC). But this is where the Rams' inability to take what the defense gives them.
At Halftime:
The Rams may come back yet in this one. But their offensive line, the strength of this team, is playing ala their 2019 level of play. Don't count on a Rams win tonight. In fact, it's probably best if we all agree just to forget this one so far.