Do LA Rams coaches no longer trust players provided by the front office?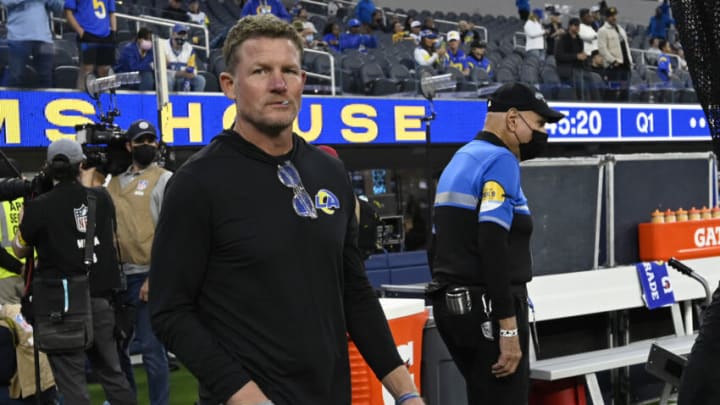 (Photo by Jayne Kamin-Oncea/Getty Images) /
(Photo by Patrick McDermott/Getty Images) /
Rodrigue reflects Sean McVay's mindset
What is the hold-up? I don't know that the evidence of some of the LA Rams problems is only available from the stands. Surely the coaches can see their tendencies, their patterns, and the box score after the game is over, right? I mean, if the Rams spot their opponents double-digit leads, and have a pick-six in each of the past three games, then it's obvious that defenses have the ability to know what the Rams offense will do, even if the Rams coaches do not.
Jordan Rodrigue, an excellent writer at the Athletic, wrote an excellent article entitled Rodrigue: For Sean McVay, Matthew Stafford and Rams, answers for slump in difference between 'can't' and 'won't' is a good piece detailing the team's current challenges. (Subscription required)
It's an excellent article, and certainly has plenty of 'oomph' in one narrative. Rodrigue cites plenty of rational and logical reasons why the team has not taken the obvious path of simply trying to run more, and doing so with two tight ends. The LA Rams have abandoned the two-tight-end grouping this year and aligned what they are doing in a very similar offensive grouping as that of their 2018 season.  But there is no Todd Gurley carrying the rock this year. Whoops?!
Can't is a self-fulfilling prophecy
In her article, Rodrigue cites two passages that have stuck with me this morning. The first is the explanation why the LA Rams are not running the ball more:
"'The Rams can't run the ball effectively right now… It's not that they "won't" — it's that they can't' – Jordan Rodrigue, The Athletic"
The term – can't – seems to be a rather strong perspective. She cites the term – can't – once more when talking about 12 packages
"'McVay can't go to one of his previous fallback adjustments, circa 2019, when he revitalized his offense by getting into heavier 12 personnel sets' – Jordan Rodrigue, The Athletic"
I love Jordan Rodrigue's perspective, and her insights put a great perspective on the LA Rams' challenges and successes. But can't is a word that makes me very squeamish, because we can justify virtually anything with the term. Can't, in my experience, describe actions that will not take place due to physical barriers that prevent the occurrence.
For example? I can't jump 100 yards into the air. That's because gravity pulls me back to the earth far sooner than my ability to reach any measurable height. Won't is a perspective that it can work, but they choose not to do so. I'm not certain that I agree with can't as justification for the LA Rams troubles. If it's truly a can't, then the entire organization is indicted for failure at building a roster that meets the team's needs. Here's what I mean: