Do LA Rams coaches no longer trust players provided by the front office?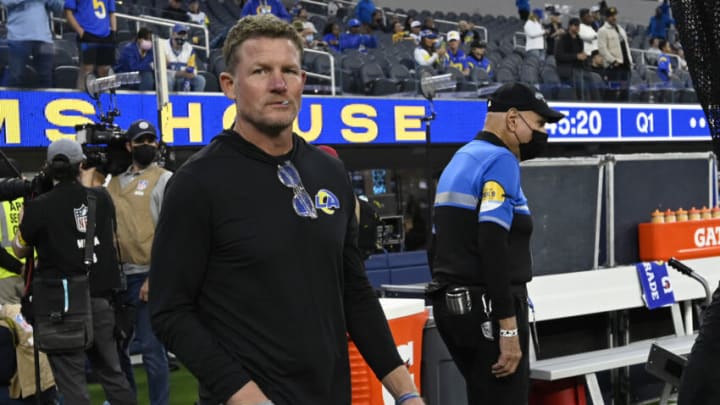 (Photo by Jayne Kamin-Oncea/Getty Images) /
(Photo by Katelyn Mulcahy/Getty Images) /
Who knew a blocking TE was so rare?
But let's ignore that ticky-tac definition, and be a bit more liberal than that rigid definition. So let's go with the assumption that this team truly cannot go with a 12-personnel package, and cannot run with the football as a result. That is clearly the mindset of the team right now, whether true or not.
But that does not answer anything. Instead, that triggers even more questions. What do I mean? Well, for starters, let's break down some of the roster decisions for this team so far. After the LA Rams lost Cam Akers, the team had plenty of time to sign a running back from the waiver wire of another team and work them into the offense.
Well, the team opted to trade for running back Sony Michel and traded two draft picks to get him for the 2021 NFL season. So far? He's getting 28 percent of the offensive snaps, rushed 79 times, and been targeted 13 times when running passing routes. Even if the team is convinced that they cannot run the ball, why then did the team opt to trade two draft picks to pick up a running back who is healthy, can run 1000 yards in a season, but is spending 72 percent of the time on the bench?
Tight end troubles
Okay, maybe that is unfair. Let's go down the path of the Rams tight end, Johnny Mundt. Once more, the Rams had an offense that was predicated on a receiving tight end and a blocking tight end. But the Rams promoted Kendall Blanton when Mundt fell to injury. Why? If he is truly unreliable, then why promote him?
The team had an option to sign up a superb blocking tight end named Darren Fells and still do. You see, he has a history of having played with Matthew Stafford, and he is on the Tampa Bay Buccaneers practice squad. Yes, the LA Rams have both Brycen Hopkins and Kendall Blanton on the roster. But neither player is getting any playing time on the football field.