Do LA Rams coaches no longer trust players provided by the front office?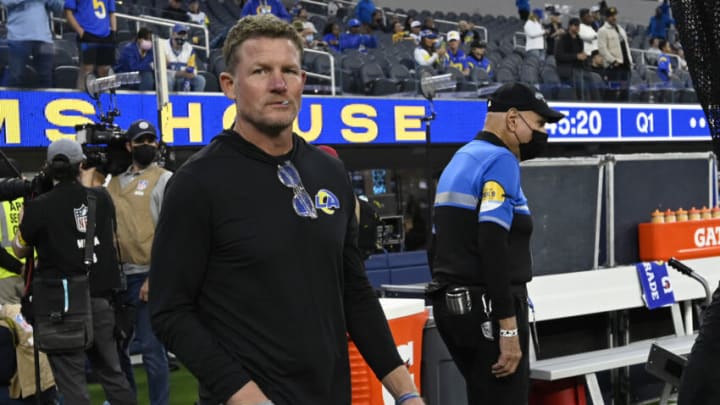 (Photo by Jayne Kamin-Oncea/Getty Images) /
(Photo by Wesley Hitt/Getty Images) /
Who spec'd this roster anyway?
That all raises a larger question. Until this year, it was assumed that the roster was built on the specifications and final approval of head coach Sean McVay. But more and more frequently, it appears as though this team's roster has been built to the wrong specifications.
The roster has been very problematic this year, it seems. If the team had a certain type of vision for the roster, then somebody fell asleep at the wheel. The team signed veteran DeSean Jackson to stretch the field, then didn't throw to him. The team added a diminutive rookie Tutu Atwell, and then the coaches never found a use for him, a way to get him and all that flashy speed onto the football field.
Can't? Won't? It's all semantics. There is a bigger problem afoot right now. The LA Rams have gone about building a roster that the coaching staff is unable to make meaningful use of. The Rams know that they need to run the ball, but now find that they don't have the right pieces to do so?
Impossible? Things are happening every day
The current roster has three tight ends and three running backs. Of that group, the team started the season with two of those tight ends and one running back, and have added the rest over the course of the season. Surely the team has some combination of talent that would allow the offense to run the ball, even if it means adding another offensive lineman to the personnel grouping on short-yardage plays?
One of the strengths of this team has been the ability of General Manager Les Snead to provide for the ever-changing and diverse needs of Head Coach Sean McVay to build a roster capable of playing LA Rams football. But we need to be fair to ourselves, and face some cold hard truths. The Rams have committed to rosters and then abandoned the same players the following year. The Super Bowl version of the Rams roster translated into huge paydays for Jared Goff, Todd Gurley, Brandin Cooks, and Aaron Donald.  Of that group, only Aaron Donald remains.
More and more, the team seems to look one way with who the team adds, but go another direction with the players who eventually take the field.  That can only mean that the front office and coaching staff are disconnected, that the team truly does not have a clear vision of what they are trying to build, or that the current coaching staff is struggling to develop players to the Rams system.   Whatever the answer, one thing is quite certain. It is not a very good sign for the team's chances of success.