Here are 8 LA Rams players who will be back in 2022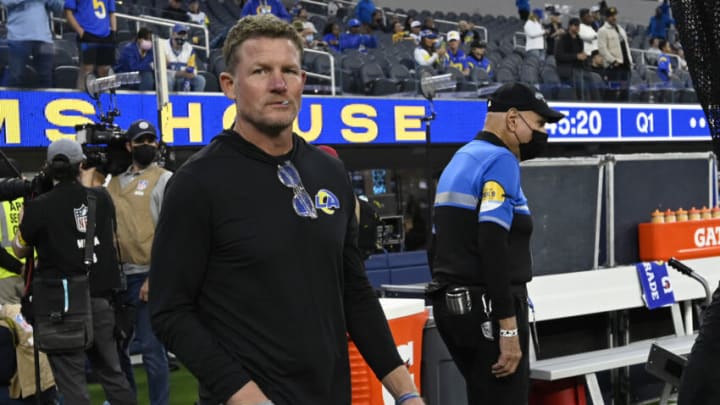 (Photo by Jayne Kamin-Oncea/Getty Images) /
(Photo by Jayne Kamin-Oncea/Getty Images) /
Just as the LA Rams are about to enter the new calendar year, the 2022 NFL season will soon be upon us.  In fact, the 2022 NFL Draft will begin on April 28, 2022, just five short months from now. But before the draft arrives, the organization will need to make a lot of decisions about the Rams roster.
One of the most important categories about the Rams roster comes down to who the Rams will target to extend into the 2022 NFL season?  While you may think of the obvious reasons – to retain the top producers for the team – the LA Rams front office has a much more complex set of criteria used to prioritize their potential free agents.
The criteria can include such elements as who offers exceptional value? Who fills a hard-to-find niche for the team? Whose contract can be timed to bridge the gap until younger players can develop and take over?
Rams Free Agency or Draft?
Finally, sometimes free agency transactions are dictated by the upcoming NFL Draft. If the draft class is projected to be deep and talented, the corresponding free agency market for that position is relatively weak. But if a draft class is particularly thin, or not very talented, NFL teams will scramble to secure veteran free agents before the draft even arrives.
In the end, it's not just about who the LA Rams can afford, but which players give these LA Rams a distinct and competitive advantage. Think back to how the LA Rams re-signed all of the team's offensive linemen who became free agents after the disastrous 2019 NFL Season. That included Andrew Whitworth (multi-year deal), Austin Blythe (one-year deal), and Coleman Shelton (one-year deal).
So, as fans sighed, snarled, and gnashed their teeth, the Rams gambit paid off. The return of veterans gave the team a distinct competitive advantage over other teams that elected to draft young offensive linemen.  In the end, those teams and rookies were limited to 2020's virtual training camp while the LA Rams were working with players who had worked and played together, the previous year.