Here are 8 LA Rams players who will be back in 2022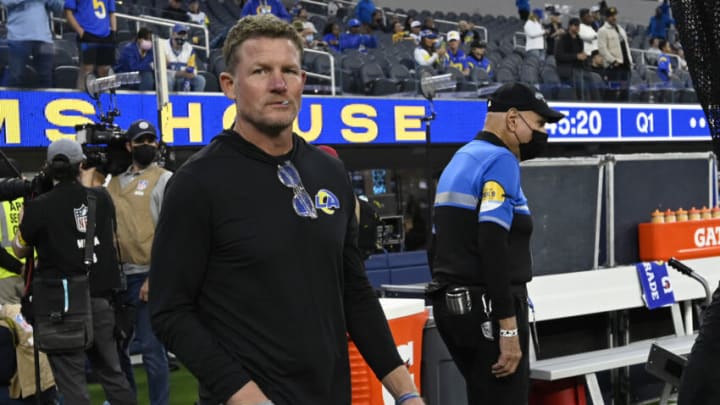 (Photo by Jayne Kamin-Oncea/Getty Images) /
Mandatory Credit: Kirby Lee-USA TODAY Sports /
Show me the money
Now, how do we go about paying for bringing players back? Well, we're almost there. Right now, Spotrac.com estimates that the LA Rams project to have $5.5 million of available cap space in 2022. Over the Cap.com estimates the 2022 available cap space to be $3.3 million.  Why such a huge difference? It's the rollover amount from 2021 which is the difference.
In either case, this is just a rough estimate anyway. At the season's end, players who have outplayed their contract will qualify for a bump, which will count against the 2022 salary cap. And initially, the salary cap will be calculated by the Top-51 players on the roster.
As teams build rosters, newly added players replace a player in the team's Top-51.  For example, if the Rams sign a player to a $2 million one-year contract, and he bumps a player from the Top-51 who was making $1 million that year, the Rams salary cap for 2022 will only be reduced by the difference between the two players, or just one million.
Kick the can finances
There is also the option to free up salary cap dollars in 2022 by restructuring or even renegotiating contracts with existing players. We detailed much of the possibilities for the 2022 salary cap in an article: Very doable: LA Rams roster and retaining 2022 free agents. This would be a great time to check that out. If you've read it before, feel free to do a quick brush-up of what we covered there. Some of the concepts there will help a great deal to help follow how the Rams can pay for players in this article.
Don't you just love math? (insert gnashing of teeth)
Need some good news? The LA Rams are finally clear of all that incredibly burdensome dead cap space that truly suffocated the team over the past two seasons. After carrying dead caps of over $38 million in 2020, and $47 million in 2021, the LA Rams are now down to under $250 thousand in projected salary cap in 2022.
What a relief. The LA Rams made it. Now, back to that roster building.
To do so, we need to have a good estimate associated with the costs of doing so.  Free agents come in three categories, based upon the number of years playing in the NFL. They are UFA = Unrestricted Free Agent, RFA=Restricted Free Agent, and ERFA=Exclusive Restricted Free Agent.
Now, we need to estimate the various Qualifying Tender Offers for RFAs in 2022, and the cost of ERFAs as well. To do so, we need a bit more information. We can get that by checking out this Over The Cap article, which does a good job breaking down the 2022 projected costs. Finally, to determine the cost to extend an ERFA player, here is the Spotrac.com table of NFL Minimum salaries projected for the 2022 NFL season.