NFL Wildcard round is set: LA Rams to host Cardinals Monday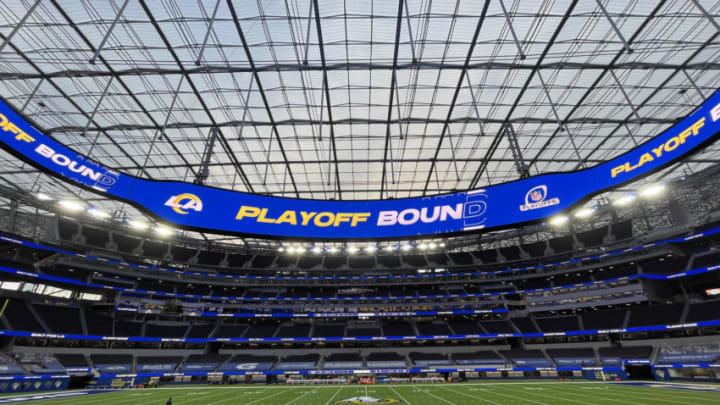 Mandatory Credit: Kirby Lee-USA TODAY Sports /
The LA Rams will host the Arizona Cardinals in the Wildcard Round of the NFL Playoffs. That is all we will know until the NFL releases its NFL Playoff Schedule. Well, the NFL released its playoff timetable during the NFL Sunday Night Football broadcast. And we're here to give you the details.
The first weekend of the NFL Playoffs seems to have two of three AFC contests scheduled for Saturday, January 15, 2021.  Two of three NFC contests, and the final AFC contest, are scheduled for Sunday, January 16, 2021. The final NFL Playoff game, that of the Arizona Cardinals traveling to face the LA Rams on Monday Night Football, will be held on January 17, 2021, at 5:15 pm PT/8:15 pm ET on ESPN and ESPN2
Due to the new formate changes of the NFL Playoffs, there are three wildcard teams. Only the top-seeded team in each conference, the Green Bay Packers in the NFC and the Tennessee Titans in the AFC, will have one week off and automatically advance to the Divisional Round of the NFL Playoffs.
Rams have the most challenging path of any NFC Divisional Winner
Due to losing the last game of the season, and losing the tie-breaker to the 12-5 Dallas Cowboys due to a worse record in NFC conference games, the Rams are the lowest-seeded NFC Divisional winner. That means that unless a lesser-seeded team upsets their opponents, the Rams will be traveling for at least two of the four games. If all higher seeded teams win in the Wildcard Round, then the LA Rams would travel to Green Bay to take on the Packers once more in the Divisional Round.
If either the Philadelphia Eagles upset the Tampa Bay Buccaneers or the San Francisco 49ers upset the Dallas Cowboys, then they would travel to face the Packers, and the Rams would travel to face the highest-seeded team remaining.  If both the Eagles and the 49ers win, the Rams will host the 49ers once more.
The Rams have an extra day of rest to prepare for this year's first playoff game. But if the Rams are successful in the Wildcard Round, they will be working on a short week to travel to face the Green Bay Packers.  Of course, it all starts with a win, because it's now a brand new season.