2022 LA Rams free agency primer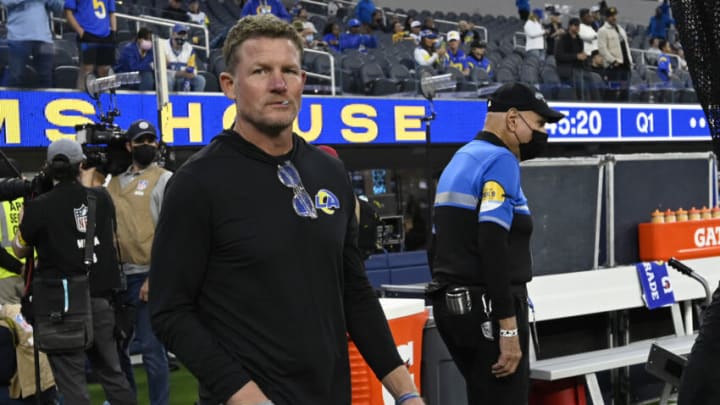 (Photo by Jayne Kamin-Oncea/Getty Images) /
The LA Rams are preparing to compete in the Wild Card Round of the NFL Playoffs and will continue to compete as long as they win. Unlike the 2020 version of this team, stuck in a win-win-lose pattern, this team can and has strung together enough wins that would eventually lead to winning Super Bowl LVI.
Then what? Well, the LA Rams will assess their coaching staff, make the appropriate firings and hirings to address where the team came up short of its goals, and replace any losses among either the executive or coaches due to attrition. After that? The team will need to assess all players whose contracts have expired. That assessment will involve both coaches and the team's personnel department and will determine if the team should extend, replace (via free agency), draft, or promote to refill the roster vacancy.
The LA Rams have been substantially burdened in recent years. Their haste to lock up talent after their appearance in Super Bowl LIII led to very lucrative deals for several players who, quite frankly, failed to deliver the following season. And so, as the LA Rams decided to part ways with those players, the team had to ante up on promising so much money to those players. The result?
Click here for 2019 – Dead cap of $13,604,018
Click here for 2020 – Dead cap of $38,466,148
Click here for 2021 – Dead cap of $48,994,418
Click here for 2022 – Dead cap of $1,137,002
That was a lot of Dead Cap money to swallow.$101, 064,584 over three years, to be exact.
Team option year
But there are various categories that cover any number of ways the team may extend players. Unlike other years, one category that the team does not have this off-season is a contract that prescribes an option year. In that type of situation, the team can obligate the player to play for another season by meeting the pre-set contract price to trigger that option.
The last player to have a contract structured in that way was slot cornerback Nickell Robey-Coleman. The Rams had the option to obligate him to play in 2020 for the sum of $4.5 million. Instead, the team did not exercise that option. That allowed him unfettered access to the NFL Free Agency Market and sign to whichever team offered him the best deal.
Unrestricted Free Agent (UFA)
The NFL and NFLPA have worked for years over the right for NFL players to bargain with any team that they deem fit. To understand the NFL official definition of terminology, click this link here.
NFL teams had historically been reluctant to do so because they are concerned over the sudden shift of a talented player off the roster with little to no recourse. As a compromise, the two sides agree that only those players with four or more accrued seasons and an expired contract shall be designated as Unrestricted Free Agents (UFAs).
Unrestricted Free Agents are those players who are free to negotiate and sign with any team. They are still bound to negotiate with teams upon the new NFL season. And the NFL has created a structure of awarding compensatory draft picks to those teams hardest hit by the exodus of players via free agency to sign with other teams.
Exclusive Rights Free Agent (ERFA)
Another type of player whose contract is expired is the exclusive restricted free agent. By definition, this describes any player with fewer than three accrued seasons and an expired contract. These players are designated as Exclusive Rights Free Agents (ERFAs).
To extend any player who falls into this category, the LA Rams need only make a one-year qualifying offer (NFL minimum salary based on the number of accrued seasons) and the player has only an option to return to the Rams or sit out a year. They are unable to negotiate with other NFL teams.
Restricted Free Agent (RFA)
The third and final category is the Restricted Free Agent (RFA) classification. They are those players with three accrued seasons and an expired contract. RFAs are free to negotiate and sign with any team, but their original team can offer them one of several various qualifying offers ("tenders") that come with the right of first refusal and/or draft-pick compensation.
The various Qualifying Tender offers used to retain rights with an RFA can be either a First-round tender offer, a Second-round tender offer, an Original-round tender, or simply a Right-of-first-refusal tender. Each offer has an implied set of protections. For example, a First-round tender offer gives the Rams the right to match any offer made to that player. If they elect not to match the offer, then the new team must forfeit a first-round draft pick to the Rams.
Of course, the greater the protection, the most costly the one-year contract. For the latest projections for 2022 Qualifying offers, click on this link to Over the Cap.com.
Important Dates
There are a number of critical dates that you should mark down on your calendar. For the full list, you can click on this link.
Date            Event
Feb 3           East-West Shrine Bowl
Feb 5           Senior Bowl
Feb 13         Super Bowl LVI
Mar 1-7      NFL Scouting Combine
Mar 8th      1:00 pm PT – Deadline for NFL Teams to apply Franchise-Transition tag
Mar 14-16  Legal Tampering Period: Clubs may negotiate with any unrestricted free agent, but may not execute that contract until the start of the new NFL Season
Mar 16th     1:00 pm PT – LA Rams must submit any Qualifying Tender Offer to RFA
Mar 16th     1:00 pm PT – LA Rams must make minimum qualifying offer to ERFA
Mar 16th     1:00 pm PT – Start of the 2022 NFL Season
That should cover the basics for now. Due to their draft situation, look for the LA Rams to be a bit more active in free agency than in the past.