Matthew Stafford faces his moment of truth on MNF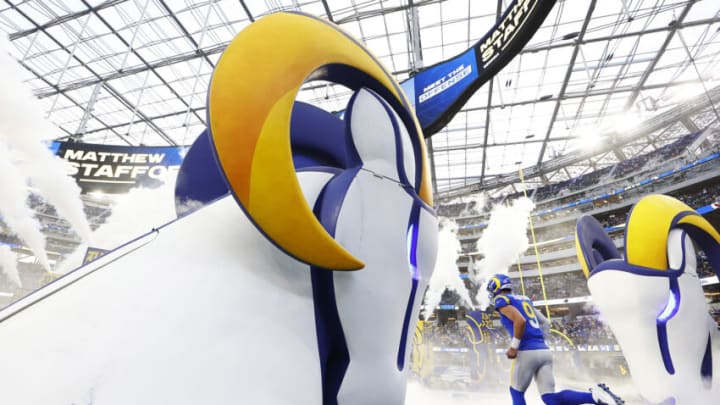 (Photo by Ronald Martinez/Getty Images) /
(Photo by Ronald Martinez/Getty Images) /
Matthew Stafford pondered the direction that his NFL career was taking with the Detriot Lions, and came to the conclusion that he wanted more. He wanted to play meaningful games in January. He wanted to compete in the post-season. He wanted a chance to see if he was up to the challenge.
Now, here we are. LA Rams Matthew Stafford faces his moment of truth on Monday Night Football.
The LA Rams may have taken the long way around the NFL to get here, and they may have converted their future draft picks to power them along the way, but make no mistake, they were focused on getting to this point all along.
From the moment that the LA Rams made their blockbuster trade announcement before the NFL Season began, an announcement that the LA Rams had agreed to send QB Jared Goff and multiple-draft picks to the Detroit Lions in exchange for veteran quarterback Matthew Stafford. That pretty much set the tone for this season, raised the bar of expectations, and dictated what the Rams would do for the rest of the offseason.
Many analysts have talked about that trade and the cost of the 2021 third-round, 2022 first-round, and 2023 first-round picks as the only risk taken in the exchange. But the LA Rams surrendered the future potential of young quarterback Jared Goff.
Jagged little pill
And the Rams had to swallow the immediate Dead Cap salary hit of $24,700,000. That was on top of the $8,400,000 Dead Cap salary hit of cutting running back Todd Gurley the year before. What would $32,100,000 of additional salary cap space have done for the Rams?
So it wasn't just one facet of this team that took the risk, it was the entire organization. From the data analytics department to the scouting group, the coaches, the front office, and even the players. Everyone has committed their share of a wager for this to happen, for this gamble to pay off.
They all risked something to bring veteran quarterback Matthew Stafford to the LA Rams, to compete in the NFL Playoffs one more time. To play meaningful football in the month of January. To have a chance at rebuilding his legacy, from great statistics into great leadership.
And now, here we are, at the moment of truth.