LA Rams wild ride wraps up Wildcard Round of NFL Playoffs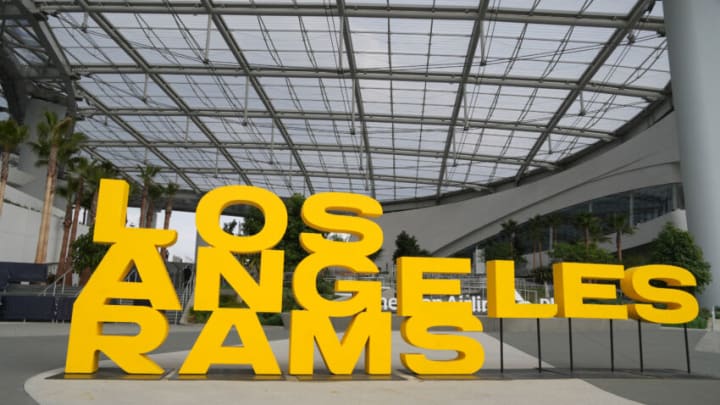 Mandatory Credit: Kirby Lee-USA TODAY Sports /
Mandatory Credit: Kirby Lee-USA TODAY Sports /
NFC Sunday
The NFC took center stage on Sunday, as they opened the second day of the NFL Playoffs by putting two games up early. Of course, in the Wildcard Round of the NFL Playoffs, you pair a seventh-seed against a second-seed. The reason? The presence of an additional wildcard team was intended to compensate for a rare occasion when the winner of an NFL Division ends the season with a poorer record than another team that finishes third in a strong division.
Philadelphia (7th seed) at Tampa Bay (2nd seed): Buccaneers favored (-8.5)
The Philadelphia Eagles were not one of the stronger teams in the 2021 NFL Season, but getting to the NFL Playoffs was a pretty impressive feat for the debut of head coach Nick Sirianni.  But he couldn't stop his young quarterback, Jalen Hurts, from giving the ball away. The Eagles were never really in this one because Hurts was simply not up to the challenge of playoff passing.  Hurts completed just 10 of 23 passes to his star receivers: TE Dallas Goedert and DeVonta Smith. But he tossed two interceptions.
Meanwhile, the Tampa Bay Buccaneers were powered by quarterback Tom Brady, who got right back into his playoff form. The outcome was never in question. Merely, the margin of victory.
San Francisco (6th seed) at Dallas (3rd seed): Cowboys favored (-3.0)
There are two lenses in the NFL. One which scrutinizes and analyzes the Dallas Cowboys, tinted with a pleasant shade of rosiness and embellishment, and the lens which is used to scrutinize and analyze the rest of the NFL. Now, I'm not saying that the Dallas Cowboys are not good. They are. But this team defeated just two NFL Playoff teams: Their NFC East rivals, the Philadelphia Eagles, and the New England Patriots. They beat up on bad teams, and their 12-5 record reflected the ease of their 2021 NFL Schedule (It was a 3rd place team schedule)
The 49ers picked right up where they left off the previous week, playing an innovative and physical style of play that had them ahead by a score of 23-7 through three-quarters of play. Before the game ended, the Cowboys put up 10 points on the San Francisco 49ers visitors before a befuddling quarterback draw play was called with time running out. Dak Prescott gained the first down, but the game clock expired.
Neither NFC East team advances. Two NFC West teams advance.
There are two teams that felt problematic for the LA Rams in the NFL Playoffs: The Green Bay Packers and the San Francisco 49ers. The 49ers win pits the two toughest draws against one another next week.
Now, only the remaining pair of Prime Time games