Can LA Rams pass rush replicate the Fearsome Foursome?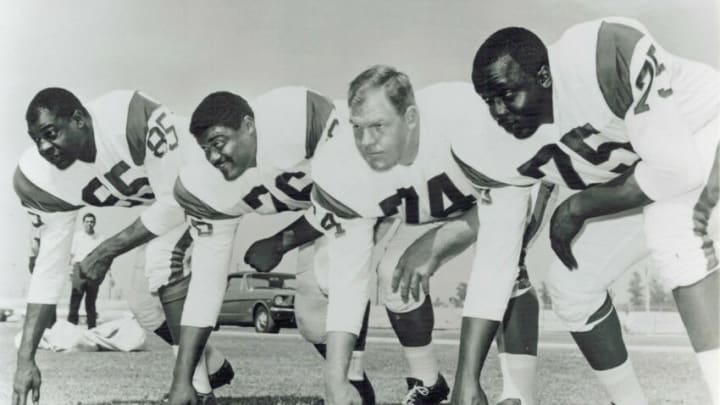 Mandatory Credit: Lundy Grier Olsen Jones /
When you take a walk down the NFL's history, you will run into a number of defensive lines that earned the moniker of the Fearsome Foursome. But true NFL aficionados will know that to be one NFL defensive front: That of the LA Rams in the 1960s and 1970s.  They were the stuff of legends, and their reputation still causes old-timers to smile and ponder a moment.
When the LA Rams acquired Rosey Grier from the New York Giants and added him to a defensive line that already included Lamar Lundy, Merlin Olsen, and Deacon Jones, the Rams Fearsome Foursome was born. It was that group, Deacon Jones specifically, who coined the term "Quarterback sack." Prior to his play, the NFL did not even take note of such things.
It wasn't until The Deacon compared tackling a quarterback who was trying to complete a forward pass as an army sacking a city that the term grew in popularity. Sadly, the NFL did not officially begin to track quarterback sacks until 1982, long after Deacon Jones' NFL career had ended.
The history of this legendary quarter is such that the NFL has dedicated pages in their honor. How about 10 things you didn't know about Deacon Jones?
4 stars are born
After football, each of the Fearsome Football found their way into show biz, albeit with different levels of success.  Lamar Lundy starred in the pilot for the television series "Lost in Space" as an alien Cyclops terrorized the Robinson family.  Deacon Jones has several cameo appearances in popular television shows of the era like "Bewitched" and others. He also starred in the Warren Beatty movie version of "Heaven Can Wait."
Rosey Grier starred in the campy horror flick "The Thing with Two Heads." But Merlin Olsen was the true Hollywood figure of the group. Olsen starred as a regular on "Little House on the Prarie". He later starred for two seasons in his own television series "Father Murphy".
One of the attractions of the LA Rams in those days was the chance to assume a second career in television or movies after the NFL. But let's get back to the point of this article. Just how good were they at football back in their day?
Fearsome Foursome ruled the NFL
The group played together from 1963 to 1966. During that time, statistics in the NFL were not well kept. But we can thank Pro Football Reference.com for recreating the statistics for these four in those years. Now, keep in mind that we are looking way back, and the NFL season lasted only through 14 games. So let's have a look at their quarterback sacks totals, shall we?
Year  QB sacks:  Grier   Lundy    Olsen    Jones   Totals
1963                       6.0       9.0          3.5        6.0         24.5
1964                       6.5       8.0          7.0      22.0         43.5
1965                       1.5       2.5          6.0      19.0         29.0
1966                       7.0     11.5          4.0      16.0         38.5
Those are pretty solid numbers, folks. As we had said, those numbers were good for 14 regular-season games.
For comparison purposes, we can take a look at what the LA Rams' top four pass rushes did in 2021: Aaron Donald (12.5 sacks), Leonard Floyd (9.5 sacks), Von Miller (5 sacks in 8 games), and Greg Gaines (4.5 sacks), we end up with 31.5 sacks in a 17 game season.
The LA Rams have yet to hoist a Lombardi Trophy for the City oF Los Angeles, despite the heroics of the Fearsome Foursome. But perhaps the current quartet of sack masters can channel their own version of the Fearsome Foursome in Super Bowl LVI.  We know that the Tennessee Titans were able to get to Cincinnati Bengals QB Joe Burrow nine times in the Divisional Round of the NFL Playoffs. Can the Rams come close to that number?
One of the benefits of competing in a Super Bowl is the way that it seems to instantly connect today's football fans with yesteryear's football stars. Perhaps that is why this game is so very special after all. It's not just about what today's NFL stars are doing on the football field now.  It's also about the memory of what yesterday's NFL stars did on the football field to earn their inclusion in the NFL Hall of Fame.