Will the LA Rams win bidding war for ILB Bobby Wagner? Time's up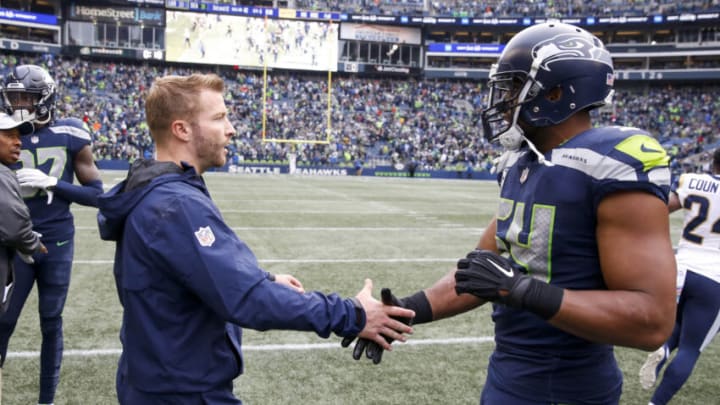 Mandatory Credit: Joe Nicholson-USA TODAY Sports /
If the LA Rams can take care of All-Pro Aaron Donald's contract, the front office could double down and take care of him on the football field. At least that is the rising tide of optimism that is happening right now. Right now it feels like it's down to the LA Rams and the Baltimore Ravens. But we've been down this dark damp drive to disappointment before with veteran Von Miller haven't we?
The rumor beehive is all abuzz once more, thanks to a late-night Tweet from free agent ILB Bobby Wagner's former teammate, Richard Sherman. Per that Tweet, a decision has been made by Wagner, who is his own agent, and will be announced sometime during the day of March 31st.
Two teams expected to be in the running for Wagner are the LA Rams and the Baltimore Ravens. The Dallas Cowboys were thought to be in the running, but they have themselves confirmed that they are not interested. The sticking point is the price tag that Wagner wants.
Per Pro Football Talk and NBC Sports Analyst Peter King, Wagner wants a one-year deal valued at $11 million. While the LA Rams can't meet those terms exactly, they could wiggle around to achieve the same effect, but at a salary cap price that tucks in neatly under the ceiling.
Rams rumor mill
The LA Rams could structure a one-year contract with multiple (let's say three additional) void years, and then put money into the deal like this: A one-million salary with a $10-million signing bonus. Due to the rules of how teams must account for the player contract, that signing bonus would be spread over four phantom years. Or, a $3.5 million salary-cap hit in 2022 and a $7.5 million salary-cap hit in 2023.
Why are we still clinging to the hope of signing Bobby Wagner?
The Athletic Jourdan Rodrigue confirms that the LA Rams are still talking to him.
Colin Cowherd has been linking Bobby Wagner to the LA Rams for some time.
We know that Wagner has visited the LA Rams and the Baltimore Ravens.
But we know that Rams head coach Sean McVay would love to have Bobby Wagner on the roster. But McVay knows that Wagner has options.
It's that last piece that is so telling for me. The LA Rams do not key on a player easily. So the fact that the Rams head coach Sean McVay is willing to put it out there tells me that it's not a dead-end road and that there is a sweet spot between what the veteran linebacker wants, and what the defending Super Bowl Champions are willing to do.
The fact is that an update should happen very soon. This feels like it could end well for the LA Rams, doesn't it? Stay tuned.