4 veteran NFL FAs on LA Rams speed dial to sign after draft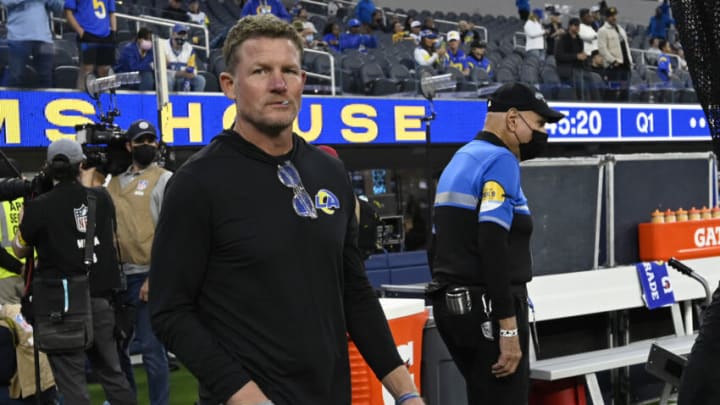 (Photo by Jayne Kamin-Oncea/Getty Images) /
Mandatory Credit: Jeffrey Becker-USA TODAY Sports /
Returning key offensive weapons
The LA Rams traded two draft picks to the New England Patriots in exchange for RB Sony Michel. Even as the NFL has devalued the running back role, the LA Rams had to be more than pleased with Michel's performance for the Rams.
Not only did Michel lead the Rams in running for the 2021 NFL season with 845 yards and four touchdowns, but he had two games where he rushed for over 100 yards. Of course, he only started seven games for the offense and did not start successive games until Week 13.  His starting games coincided with the LA Rams' five-game winning streak to close out the season.

Michel may have needed some time to heat up in the Rams' offense, but once he got hot, he was able to deliver the goods. Even as Cam Akers and five other rushers return to health for the Rams, Michel could play a significant if just rotational role in this offense in a fashion similar to that of Malcolm Brown. The LA Rams should bring Michel back, if only for just one more season.
Half a season of OBJ is better than a full season of many WRs
The LA Rams were certainly frantic or overeager to sign WR Odell Beckham Jr. when he became available midway through the 2021 NFL season. And while he was added mid-season, he truly began to sizzle in the Rams offense in the postseason.
That is not to say that he didn't contribute during the regular season. As soon as he arrived, his half-season with the LA Rams topped his catch rate and scoring rate in the past 2.5 seasons with the Cleveland Browns.  But in the playoffs, OBJ proved that he could haul in contest catches, and did so at an eye-popping rate of over 80 percent.

Odell Beckham Jr. may not be available until November 2022, but the LA Rams are the team with the most intimate knowledge of his injury and his recovery. Reports indicate that teams hesitated to sign OBJ to a long-term contract because many teams noticed that the ACL injury suffered during his time with the Cleveland Browns did not seem to heal fully.
Now, reports are that the latest ACL surgery not only corrected the latest damage but was able to clean up and correct damage from the previous ACL injury/surgery. Right now Beckham is expected to make a complete recovery and may actually have extended his NFL career.
If true, the Rams would be wise to sign OBJ to a multi-year contract and keep him in this offense for several years.
The LA Rams roster will need more than Day 3 picks in the 2022 NFL Draft to reset for the 2022 NFL season. If the LA Rams sign these four free agents, they will be that much closer to a successful NFL Championship Title defense.