NFL schedulers fear LA Rams rival Seahawks will struggle in 2022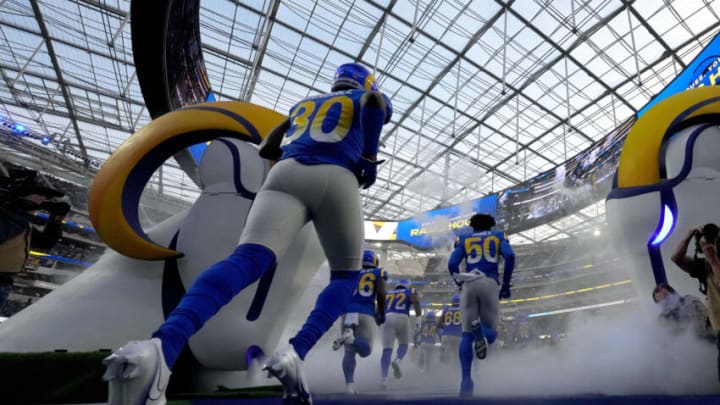 Mandatory Credit: Kirby Lee-USA TODAY Sports /
There are fewer and fewer bits of news releases that I can say truly catch me by surprise. And of those rare surprises, even less cause me to laugh out loud. But I have to admit, the Tweet about the LA Rams schedule brought me to laughter and outright guffawing. But before we jump straight to what it was that I found to tickle my funny bone, I should probably share some background.
As the release of the NFL schedule, slated for May 12 at 5:00 pm PT, neared, some media venues were permitted to leak a game or two to generate some excitement about future NFL games. For the LA Rams, they knew that they would kick off the 2022 NFL season with the Kickoff Classic on Thursday Night Football.
Since it is the first game of the season, television producers are eager to showcase two competitive teams, and the NFL is more than happy to oblige them. Of course, with a schedule like that of the LA Rams, almost every opponent each week is worthy of being featured in the opener.
Rams schedule reworked for Seahawks struggles
One team that was rumored to be in heavy consideration was a game that pitted the Denver Broncos on the road to face the LA Rams.  Ultimately, it turned out that the Buffalo Bills, not the Denver Broncos, were scheduled to face the LA Rams in the season opener.  So the question then became: What happened to the Broncos? Well, now it seems that we know the answer.
It seems that the NFL wanted to get the matchup of Denver Broncos' new quarterback Russell Wilson scheduled early against this former team, the Seattle Seahawks. If the Seahawks struggle in 2022, as NFL execs suspect, they will lose their attractiveness to play the Broncos.  That forced the NFL to plan for the Seahawks to face the Broncos early.
As a result, the Broncos were removed from consideration to open with the Rams, and the Buffalo Bills assumed the opener.
It wasn't that I am delighted by the demise of the Seattle Seahawks (okay, maybe I am a little), but just being caught off guard by the Seahawks feared to be a bad team created such an NFL scheduling commotion struck me as funny. Hey, life is too important to be taken so seriously. If you find a reason to laugh, let loose.