LA Rams: Expect these 3 players to have a breakout season in 2022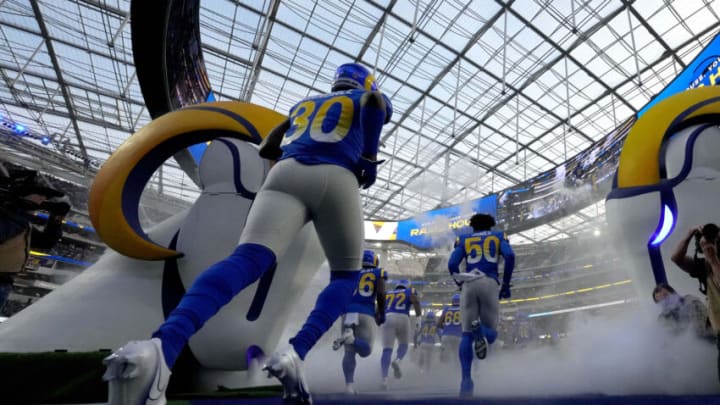 Dec 21, 2021; Inglewood, California, USA; Los Angeles Rams running back Raymond Calais (30) enters the field before the game against the Seattle Seahawks at SoFi Stadium. The Rams defeated the Seahawks 20-10. Mandatory Credit: Kirby Lee-USA TODAY Sports /
Mandatory Credit: Kirby Lee-USA TODAY Sports /
Who will make the biggest impact in 2022?
Like I said earlier, it is difficult to predict which player on the 90-man Rams roster will have the biggest impact during the 2022 season. But if I was a betting man, I'd wager that the player you should look out for is wide receiver, Tutu Atwell.
Tuta Atwell may have the most upside because of his speed and play-making ability. And of course, you can judge how the team feels about the depth at the position due to the lack of focus by the front office to restock the receiver position. Look for Atwell to compete for a contributing role on special teams, returning kick-offs and punt returns. With his blazing speed, Atwell will be a dangerous threat returning kicks and can change the scope of a game with one play.
Of course, the Rams will have quite a bit to sort out at the tight end position, as well as the entire defensive secondary in training camp.  So there will be a huge number of training camp competitions that could theoretically go either way. We will likely know the results of the intense competition by the time preseason games arrive. If the team remains true to past practice, starters will sit through the three games and will rely upon scrimmages to get up to speed.
The Rams have a lot of impactful players but I believe that these three players are the most likely to make the biggest leaps into significant roles from last year. Right now, the team appears to have opportunities at the wide receiver, tight end, and secondary roles. I'm looking forward to see how this all plays out.