Here are the 4 toughest opponents on the LA Rams schedule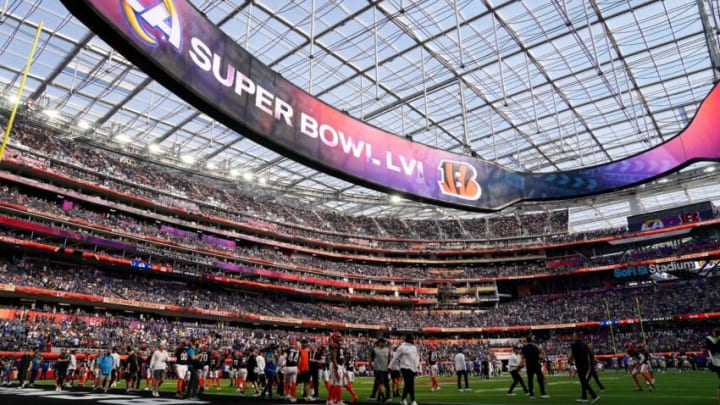 General view of the field as the Los Angeles Rams and the Cincinnati Bengals warm up before kickoff of Super Bowl 56, Sunday, Feb. 13, 2022, at SoFi Stadium in Inglewood, Calif.Nfl Super Bowl 56 Los Angeles Rams Vs Cincinnati Bengals Feb 13 2022 0247 /
Doesn't it seem as though the LA Rams have more than their fair share of tough opponents in 2022? While we know that the Rams would have a tough schedule, there is little room for error during the 2022 NFL season. In fact, from the moment the AFC West teams entered the off-season, it seemed as though they all reached a consensus to start an arms race that was not just about winning the AFC West but defeating the LA Rams as well.
Curiously, while all the AFC West opponents will be difficult matchups, they are not the toughest games on the schedule this year. In fact, not one appears to be among the Top-4 toughest opponents on the LA Rams schedule this season.
Week 1: Buffalo Bills @ LA Rams, TNF Sep 8, 2022, @ 5:20 pm PT
The LA Rams are the defending NFL Champions, and the Buffalo Bills are the consensus top challenger for the NFL Championship this year. Is this a preview of Super Bowl LVII? Well, that is just one of the many angles you will face in this game. Look for plenty of Von Miller faces against his former team talk, as well as Jalen Ramsey vs. Stefon Diggs.
Week 4: LA Rams @ San Francisco 49ers, MNF
The LA Rams defeated the San Francisco 49ers in Los Angeles for the NFC Championship Title. But the 49ers had a six-game winning streak over the Rams before that, and now we're back to the regular season. Will the Rams face new 49ers QB Trey Lance or good ole Jimmy Garoppolo? Don't look for any love lost in this one.
Week 9: LA Rams @ Tampa Bay Buccaneers
The LA Rams have beaten the Tom Brady-led Tampa Bay Buccaneers in the past three matchups. Will the Rams be able to do so a fourth time? That's certainly the hope, as the Rams travel across the country to face Tom Terrific one more time. I won't speculate that this is their last meeting, as both teams are expected to appear in the postseason as well.
Week 15: LA Rams @ Green Bay Packers MNF
It feels as though someone in the NFL scheduling department will continue to send the team to Lambeau Field until the Rams are forced to play the Packers in blizzard conditions. Or perhaps until the Rams beat the Packers in Lambeau. In any case, this will make the third consecutive season for the Rams to travel to the frozen tundra. In the past, the Rams have been sent home with a loss. Is the third time the charm? Let's hope so.