LA Rams defensive lineman Aaron Donald's castle is his new home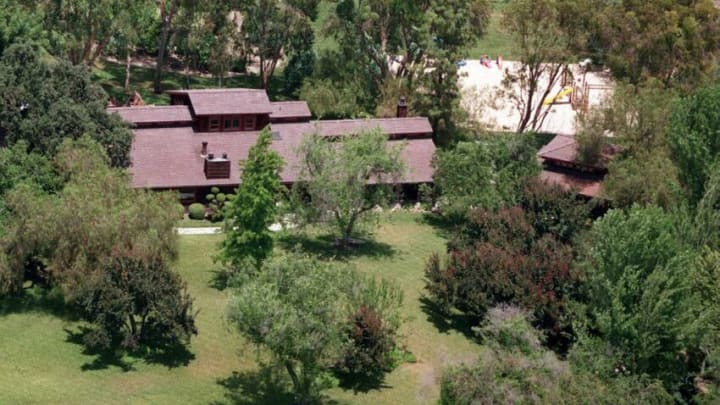 8/14/95 HIDDEN HILLS, CALIF. /
The old saying is "A man's home is his castle." But if we plan to talk about LA Rams All-Pro defensive lineman Aaron Donald, we're going to need to tweek that saying a bit. It should read "Aaron Donald's castle is his home," because mansion, compound, or villa really do not convey the same meaning.
You may recall the combined concerning the impact of two unrelated NFL Rumors being publicly reported simultaneously. The first was the matter of Aaron Donald mentioning retirement which was publicly reported in the pre-game show to Super Bowl LVI. The second was news of Donald placing his $6+ million home in Calabasas up for sale.
Well, we have not risen above the retirement rumors just yet. But we have gotten some clarification in terms of Aaron Donald's home sale.  He was not moving, but rather was upgrading. And not just across the street, but to the very trendy and ultra-affluent Hidden Hills neighborhood of southern California.
Hidden Hills is located in Los Angeles County and is just to the northwest and adjacent to Calabasas and west of the San Fernando Valley. It is an extremely quaint and unremarkable gated community (town?) area with plenty of elbow room. Only just about 506 families live in the area for a total population of fewer than 2000 residents.
What type of castle, er… home, runs at a cost of $17 million?
Defend the castle!
Well, per the TMZ article on the subject, the new domicile is a 12,000 square-foot construction that features eight bedrooms, nine bathrooms, a game room, a dedicated movie theater, a fully equipped gym with a steam shower, and a full-service sauna. And, of course, this luxurious home features a spectacular living room with a fireplace and a private office for studying videos and the LA Rams playbook.
What about the nosy neighbors? That really shouldn't pose a problem for Donald, as his new neighbors are familiar faces: LA Rams quarterback Matthew Stafford and head coach Sean McVay. But the area is home to several of the Kardashians, to Drake, and even Miley Cyrus.
Hidden Hills is strategically located about halfway from the LA Rams training facility at Cal Lutheran in Thousand Oaks, California, and the team's home field at SoFi Stadium in Inglewood, California.
Want to experience life in Hidden Hills for yourself? Well, one smallish five-bedroom residence is available for rent, but the cost is nearly $17,000 per month. Perhaps that is why Aaron Donald is holding out for more money? Mortgages for a $17 million property can't be cheap. For that matter, neither can the real estate taxes or the cost for home repairs?