LA Rams players must pivot quickly to prepare for TNF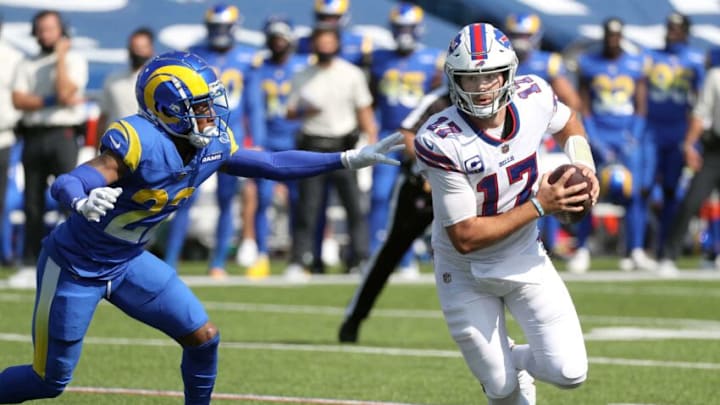 Jg 092720 Bills 18 /
The LA Rams have only just completed the painful arduous task of restocking this team's 53-man roster, recreating the 16-player practice squad roster, and now have a chance to rest up and absorb all of the sudden and dramatic changes before turning their attention to Week 1 and hosting the very dangerous Buffalo Bills.
While some feel this team's roster must prove itself on game day, the most challenging opponent for the LA Rams this year may be staying healthy. The Rams certainly appear capable of repeating their incredible last season outcome this year, but not if injuries ravage the roster at that same frantic pace.
And so, it's time to relax.

Oh? That's not right?  Thanks to the season opener arriving on Thursday Night Football, the LA Rams will practice:
Day 1 – Friday, September 2nd
Day 2 – Off
Day 3 – Sunday, September 4th
Day 4 – Monday, September 5th
Day 5 – Tuesday, September 6th
The LA Rams will host the touted Buffalo Bills on Thursday Night Football, and with that opener, the Rams will know very quickly just how good this team is.
September Rams games: Schedule dates, times, and predictions for Week 1
Buffalo Bills (Home)
Date:   Thursday, September 8
Time:   5:20 pm PT
TV:       NBC
The Rams will face former teammate OLB Von Miller in a game that will surely be marketed as the preview of Super Bowl LVII. To date, LA Rams head coach Sean McVay has prepared the LA Rams very well for the season opener, boasting a record of 5-0 in just five season openers. Over that stretch, the Rams have opened the season on the road twice, and have opened at home three times.
A win to open the season would go a long way for the Rams, but in terms of NFL Playoff tie-breakers, AFC opponents are almost never involved in any tie-breaker rules.
Still, winning games is the goal, and as long as the LA Rams keep on winning, they will have no reason to concern themselves over tie-breaker scenarios.