Jalen Ramsey roars back to life in LA Rams defense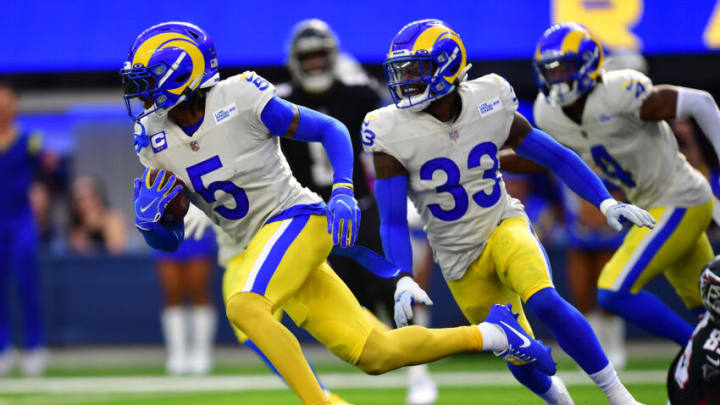 Mandatory Credit: Gary A. Vasquez-USA TODAY Sports /
Life as an NFL All-Pro defensive back is not an easy path to walk. That is particularly so for LA Rams defensive back Jalen Ramsey, a very competitive defensive back who incensed much of the fanbase of the Jacksonville Jaguars by demanding to be traded in 2019. Ultimately he was traded to the LA Rams, but the damage to his reputation would suffer damage that, even now, has not been repaired.
Ramsey, like all elite defensive backs, oozes confidence and the ability to forget mistakes and focus on the next game, the next challenge, and the next play. That rubs some fans the wrong way. How does his dwelling on miscues somehow make him a better player?  I'm not sure how that all works.
I do know that in Week 1, Ramsey was targeted six times, and allowed 5 receptions and one touchdown. It was an uncharacteristically poor outing for him, but we cautioned fans not to overreact to one ineffective showing. Secondaries are not one player, but a network of defensive backs, and the Rams were clearly not communicating well in the opener.
Rams Ramsey rebounds
So what about Week 2? It was a much more effection outing per Pro Football Focus:
Opponent          Targets             Completions         TDs    INTs
Buffalo                  6                           5                           1         0
Atlanta                  5                           2                           0         1
The Rams' secondary has been a bit under duress so far this season. While the opener was a bit chaotic, the Rams suffered injuries to both Troy Hill and his replacement, Cobie Durant in Week 2. And yet, when the Rams needed to shut down the Atlanta Falcons offense, it was Jalen Ramsey who came up huge with an interception.
And it was a very emotional turning point for the Rams' veteran defensive back.
Some fans simply don't like Jalen Ramsey, and a down game affords the opportunity to get some digs in.  Other fans have problems with a player who never seems to run short of self-confidence, which can be interpreted as cockiness.
But the LA Rams' defense simply is not an effective defense without Ramsey in pass coverage, and it's as simple as that. Jalen Ramsey is a prideful player, and he should be. The LA Rams defense asks more of him than any other player not named Aaron Donald. For the most part, he continues to deliver.
The Rams' defense is built to bend, not break, and to create turnovers.  After two weeks, the LA Rams are tied as the top-ranked defense for creating turnovers. If not for the Rams' offense's willingness to give the football away, the Rams would be held in much higher regard.
Jalen Ramsey is back on track. The Rams' defense powered the team to win Super Bowl LVI. Let's give them, and Ramsey, the benefit of the doubt.