Is Matthew Stafford the same QB LA Rams traded for?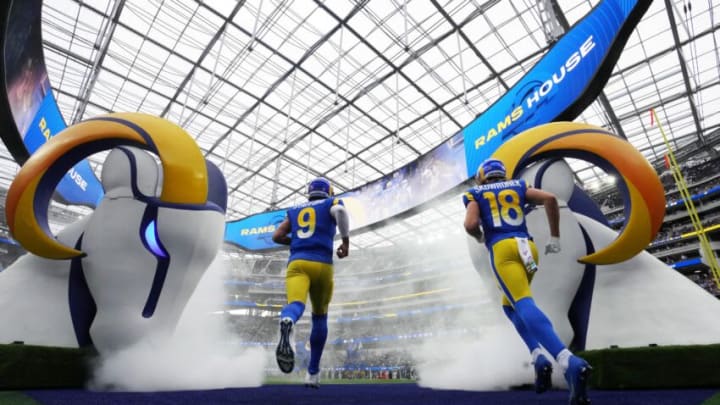 Oct 16, 2022; Inglewood, California, USA; Los Angeles Rams quarterback Matthew Stafford (9) and wide receiver Ben Skowronek (18) enter the field before the game against the Carolina Panthers at SoFi Stadium. Mandatory Credit: Kirby Lee-USA TODAY Sports /
The truth about the success of any NFL team that acquires a veteran NFL quarterback comes down to how much gas that veteran quarterback has left in his tank.  And that is not something that many teams get right.  We know that the Tampa Bay Buccaneers signed free-agent quarterback Tom Brady. That was quickly followed by the LA Rams trading for veteran QB Matthew Stafford.
Two veteran quarterbacks translated into two instant Super Bowl victories.  The NFL, a professional league that loves to play follow the leader, jumped onto the train.  The Indianapolis Colts traded a third-round pick to the Atlanta Falcons for Matt Ryan.
The Washington Commanders acquired QB Carson Wentz, a 2022 second and seventh-round picks. The Indianapolis Colts received a 2022 second and third-round picks, plus a conditional 2023 second or third-round pick.   Finally, the Denver Broncos traded three players: QB Drew Lock, TE Noah Fant, and DL Shelby Harris, plus two first-round picks (2022 and 2023), two second-round picks (2022 and 2023), and a 2022 fifth-round selection to the Seahawks for Wilson and a 2022 fourth-round pick.
Tough year for veteran QBs
So how are veteran quarterbacks playing this season? Well, here are the latest trio:
We know that it's pretty ugly for the LA Rams quarterback Matthew Stafford. While 3-3, he has completed 71.1 percent of his passes. But he has only thrown six touchdowns, and eight interceptions, and has been sacked 22 times for 152 yards lost.
Tampa Bay Buccaneers quarterback Tom Brady has completed 66.9 percent of his passes, and he's thrown eight passes to just one interception. But he has fallen to a 3-4 record as well.
Matt Ryan vs Matthew Stafford
How bad does it look for veteran quarterbacks right now?  Well, this Tweet describing Indianapolis Colts QB Matt Ryan is pretty damning:
But it was shown as to the reasons why the Colts have changed their starting quarter, who is now QB Sam Ehrlinger. So how bad did Matt Ryan play?  Let's compare the two quarterbacks, Matt Ryan (7 games) and Matthew Stafford (6 games):
Name                            Comp  ATT   Yards    Comp%   YPA      TD    INTs   Sks-SYL
Matt Ryan                    203     297   2008      68.4      6.76       9       9       24-184
Matthew Stafford      160     225   1576      71.1      7.00       6       8       22-152
Now, consider that the Indianapolis Colts have decided to sit Matt Ryan, who arguably is having a season that is comparable to that of Rams quarterback Matthew Stafford. The LA Rams stand at 3-3, while the Indianapolis Colts stand at 3-3-1.
Stafford succession
We know that Stafford dealt with tendinitis before the season started. Is that still a factor? While I do not know particulars about Stafford, my familiarity with the ailment is that it is something that can linger and must be dealt with.
The best 'cure' is rest and modifying activities. But how do you stop an NFL quarterback from throwing passes downfield?  And if you do manage to modify quarterback Matthew Stafford's arm activity, either in workload or in mechanics, do the LA Rams have the same quarterback on the roster today that they traded for?
You decide. But the current struggles of veteran quarterbacks do raise the issue for the LA Rams in terms of how well the team will handle the succession at quarterback. Do the Rams have that succession plan in place? Or, as we are discovering this season, do the Rams simply believe that the answer will present itself as the need arrives?