The ever-dynamic roles of LA Rams DL Michael Hoecht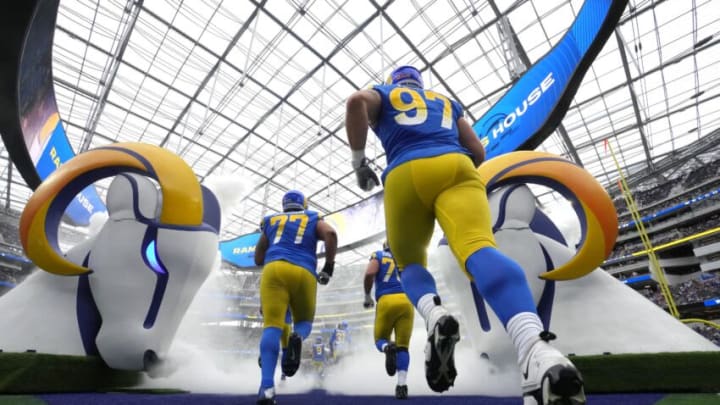 Mandatory Credit: Kirby Lee-USA TODAY Sports /
The LA Rams have been trying to find the right niche for young defensive lineman Michael Hoecht. He has reportedly lined up at the tight end position. He has returned a kick 22 yards. He has blocked a punt. He was the author of a strip sack and recovered the very fumble that he created. But despite all the many ways he can be used on the Rams this season, he has been limited in the number of snaps he gets.
And so, the LA Rams have tried to get the incredibly athletic Hoecht more involved in plays. That effort has resulted in Michael Hoecht showing up in plays when you least expect him:
Now with the release of OLB Justin Hollins, the Rams are really thin at the outside linebacker position. But Rams defensive coordinator Raheem Morris has a plan, and it involves the swiss-army-knife-utility of defensive end Michael Hoecht.
Hoecht will see more defensive snaps, but in which role? Let's listen in on LA Rams All-Pro defensive lineman Aaron Donald talking in the press conference at the 0:35 mark and discussing his teammate, Michael Hoecth:
The Rams need to get their younger players much more involved quickly. There is a backlog on this roster of players who are in or nearing the end of their contract and now is as good of a time as any to get them involved and see if they have what it takes to be extended.
Michael Hoecht is just one such young player whose athleticism and playmaking ability have not even begun to be exploited by the Rams. But it sounds as though that could change quickly. Hopefully, Hoecht has what it takes to fill more defensive snaps for the team.
But I won't lie. I would love to see him take on the role of fullback for the Rams as well and get a couple of carries. Now that would be fun.