Will the real LA Rams starting OLBs stand up?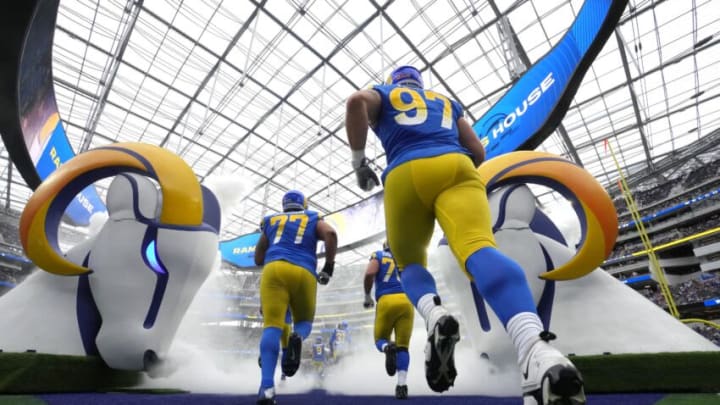 Mandatory Credit: Kirby Lee-USA TODAY Sports /
The LA Rams have gone almost instantly from no outside linebackers to help rush the passer to more than the defense can play in a game. What do I mean? Well, after the Rams roster was tallied up after the release of veteran OLB Justin Hollins, the Rams were down to just OLB Leonard Floyd and Terrell Lewis.
Quite frankly, with the way the Rams have rolled through players due to injuries, I was not confident that the pair could last through the first half of the game against the Kansas City Chiefs.
But necessity is the mother of invention is the saying, and it appeared to be true as the Rams trialed former down lineman Michael Hoecht as a rotational player at the outside linebacker position. That experiment brought about an amazing discovery: Michael Hoecht had an amazing debut at the outside linebacker position.
The more, the merrier Rams roster
Still, the Rams lost that game rather handily. And while Hoecht enjoyed a career-high six tackles in one game, he was only able to get close to Chiefs quarterback, Patrick Mahomes.  So how could the Rams improve their pass rush even further? Well, if Hoecht got close in his debut, what about the Rams adding two more outside linebackers for their NFL debut?
And so it was that the Rams added two more Edge rushers to their 53-man roster:
So what was the outcome?
While neither rookie Daniel Hardy nor Keir Thomas showed up in the final stats for the game, Michael Hoecht clearly likes his new role. He had three tackles in the Week 13 matchup with the Seattle Seahawks, but two of those tackles were quarterback sacks, and one of those sacks was a strip sack that resulted in the defense creating a turnover.