LA Rams rumored to have placed claim for QB Baker Mayfield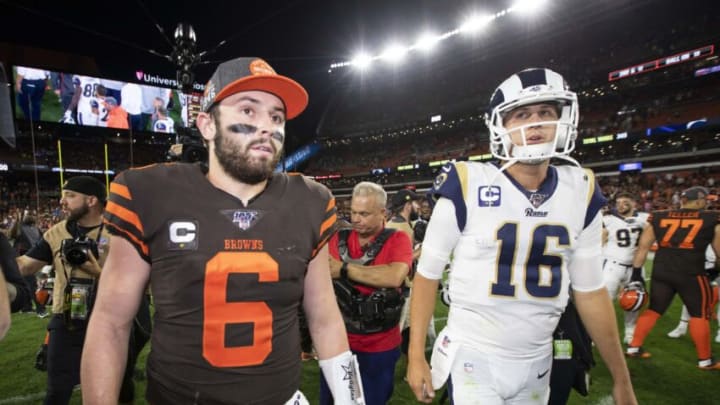 Mandatory Credit: Scott R. Galvin-USA TODAY Sports /
When is too late, too late? The LA Rams have looked the other way over their backup quarterback role for several years. To date, the team has been content to staff the backup quarterback position with both QB John Wolford and QB Bryce Perkins. Both are proud players. Both are highly competitive. But when the Rams need offensive production on the football field, results have been less than optimal.
We had hoped that the Rams would show more focus on the backup quarterback role. There are a number of strategies for doing so. One method is to continue to draft middle-of-the-road rookie quarterbacks, coach them up, and then either trade them or allow them to sign on elsewhere for a chance at an awarded compensatory pick.
Why a depreciated veteran NFL QB?
Another strategy is to offer a safe haven for a veteran quarterback whose value has deflated, and allow them to refurbish their reputation on the roster. Again, the outcome is to either trade that player for picks or allow him to sign elsewhere with the chance to be awarded compensatory picks.
But despite our urgings, the LA Rams have opted not to take up the yolk when it comes to adding value to raw but talented quarterbacks, and I'm not sure why. If the Rams lose offensive positional coaches each offseason as teams try to infuse the Rams' offensive strategies into their own offense, why not use that interest to their advantage?
Coaching up quarterbacks to use in future trades is a practice that some of the most successful NFL head coaches had happily employed in their careers. I can recall that both New England Patriots head coach Bill Belichick and former Philadelphia Eagles head coach Andy Reid as two head coaches who used that strategy quite profitably in their careers. The LA Rams should consider doing so.