LA Rams rumored to have placed claim for QB Baker Mayfield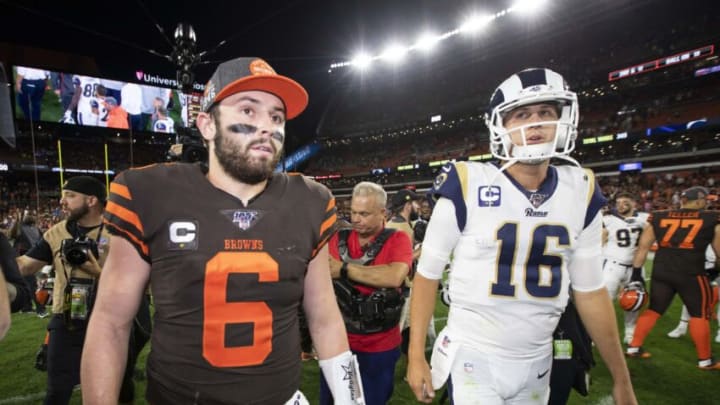 Mandatory Credit: Scott R. Galvin-USA TODAY Sports /
Mandatory Credit: Tommy Gilligan-USA TODAY Sports /
LA Rams rumors: Baker Mayfield in the crosshairs?
So are there any veteran quarterbacks whose stock has plummeted in recent weeks? Well, I can think of one such quarterback, a formerly promising young hurler from the Cleveland Browns whose value has fallen to the point of being released outright by the Carolina Panthers, Baker Mayfield:
Well, what could Baker Mayfield offer the LA Rams? Is it worth submitting a claim? I think so, and the LA Rams apparently think so as well:
A report of the Rams' rumored interest in Baker Mayfield? Is this possible?
Rams need a veteran QB
Now don't think that Mayfield can turn this Rams offense around. Even if the Rams successfully claim him, he will need plenty of preparation to know this offense and be able to contribute, which could take several weeks. But he has an amazing ability to flourish in the right offense, an offense that the Cleveland Browns offered in his first three seasons of NFL competition.
But the Browns organization did not meet with as much success as hoped for. That translated into coaching changes, and that led to new offensive philosophies and plays. Ultimately, the Browns' offense was no longer Mayfield-friendly, and the team elected to trade for Houston Texans quarterback DeShaun Watson. Mayfield was subsequently traded to the Carolina Panthers but failed to create any momentum to play in that offense either.