LA Rams rumored to have placed claim for QB Baker Mayfield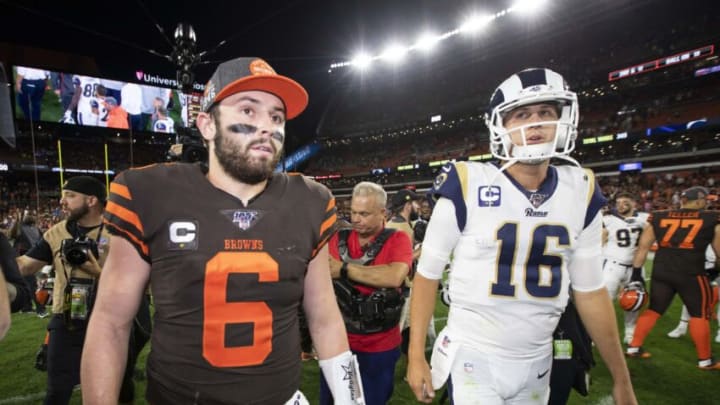 Mandatory Credit: Scott R. Galvin-USA TODAY Sports /
Mandatory Credit: Robert Hanashiro-USA TODAY Sports /
A strategic addition to the Rams roster
Well, the LA Rams have several reasons to do so. The first and most obvious strategic reason is the way the NFL awards compensatory picks. If the Rams do get Mayfield, then when his contract expires, the NFL algorithm that calculates potential awards for compensatory picks will consider the Rams as the team that lost Mayfield to free agency, and any compensatory pick awarded will add to the LA Rams 2024 NFL Draft picks.
But there is a more nefarious reason to do so. The San Francisco 49ers are clearly in need of a quarterback, and the sudden release of Baker Mayfield has created a simultaneous supply and demand
It makes sense for the 49ers to have an interest in a veteran QB right now.
Just say no to the Niners
Any interest by the San Francisco 49ers is likely in vain, as an inexpensive veteran quarterback is likely never to make it to the 49ers even if they submit a claim. But will the Rams get more than future draft picks if they successfully claim him?
The LA Rams may not be an offensive powerhouse right now, but the team does create some mismatches downfield and still has the potential to be a quarterback-friendly system. Baker Mayfield has been under plenty of pressure to deliver in recent years, but if he lands with the LA Rams, those expectations fall to zero.
Mayfield can make the throws and is adept at creating enough time with his feet to give him a chance to do so. And the fact is that the Rams' young receivers would benefit even a little bit by working with a proven NFL veteran quarterback, even if only on the practice field.
Can the Rams' brain trust help Mayfield to restore his NFL reputation? Hopefully, that answer is yes. After all, the Rams need a bit of reputation restoration as well.