Week 16 Update: Who the LA Rams need wins/losses from each week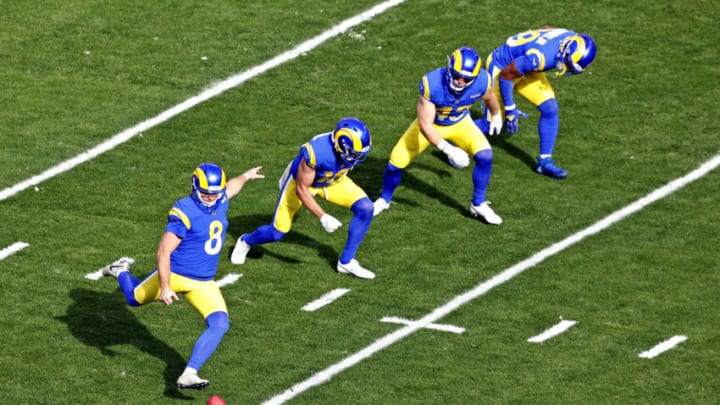 Mandatory Credit: Nathan Ray Seebeck-USA TODAY Sports /
Mandatory Credit: Jayne Kamin-Oncea-USA TODAY Sports /
Things are a bit less complicated than before
The key to earning the final playoff berth is to get to eight wins with no more than six NFC teams (including NFC Division leaders) at or greater than eight wins. We can see that the Philadelphia Eagles (12-1), Dallas Cowboys (10-3), Minnesota VIkings (10-3), and San Francisco 49ers (10-4) and now the New York Giants (8-5-1_ have already exceeded that win total.  So, to help the LA Rams, they each benefit the Rams if they keep on winning.
Sounds weird, right? Well, it all makes sense as their wins deal losses to the teams listed below:
V:  The Green Bay Packers (5-8), Carolina Panthers (5-8), New Orleans Saints (5-9), and Atlanta Falcons (5-8) all have to have seven wins or less. The Buccaneers (6-8) may need to have seven wins or less if they lose the lead in the NFC South Division race. (see below)
We won't dive into complex tiebreakers at this point
There remain multiple scenarios in which more than one team ends the 2022 NFL season with eight wins that could conceivably result in the LA Rams earning a playoff berth, but the tiebreaker rules that apply will be far too lengthy and complex to address this far out from the end of the season.
Keep in mind that the path to the NFL Playoffs for the LA Rams is to end the season with eight wins, and to have the fewest number of NFC teams finish with 8+ wins. Any NFC  team that already has reached that magic win total of 8+ helps the Rams by winning all their remaining games.
While the Tampa Bay Buccaneers are not yet to that magic number of eight wins, they currently lead the NFC South Division and automatically earn a playoff berth as a result. Should another NFC South team overtake them, then they get the automatic berth, and the Rams must hope that the Buccaneers win no more than seven games this season. So keep cheering for all NFC South teams to lose, and you won't go wrong.
The key to it all is the Rams must win Monday Night Football on a cold night on Lambeau Field against the Green Bay Packers.