LA Rams pick up a pair of WRs for practice squad, and more . . . ?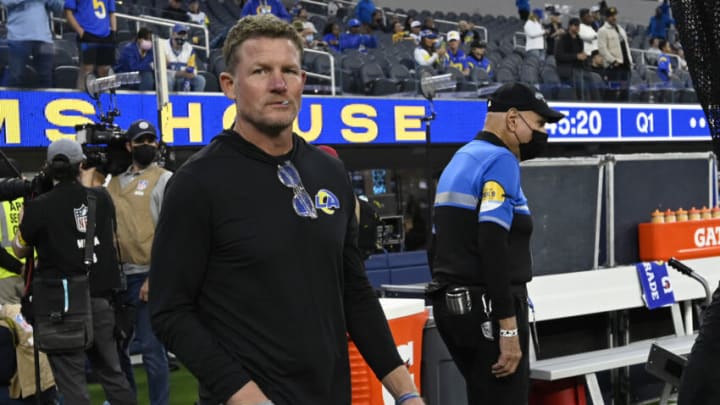 (Photo by Jayne Kamin-Oncea/Getty Images) /
The LA Rams never met a wide receiver that the team did not like. Even now, with so many uncertainties surrounding the 2023 NFL Draft, free agency, and the team's roster for next season, the list of potential additions to the team during the offseason would surprise nobody if the list is primarily wide receivers.
The Rams have lost three of their top-performing wide receivers of the 2022 NFL season: WR Cooper Kupp, Allen Robinson, and Ben Skowronek, to injuries. The team has also lost the chance to finally see if and how TE/WR Jacob Harris fits this Rams offense, as he is out due to injury as well.
So the Rams must now pivot to their wide receiver depth for the final three games of the season. It's a safe bet to presume that WR Van Jefferson's role is safe for 2023. But it's not too speculative to believe that recent injuries open several opportunities for the team to get first-hand experience for some of the lesser-used receivers: WR Tutu Atwell, WR Brandon Powell, WR Austin Trammell, and WR Lance McCutcheon.
Rams address receiver depth
What about receiver depth? Before today, the LA Rams were content to carry just one wide receiver on the practice squad. He is a promising rookie wide receiver named Jaquarii Roberson. Now, he will be joined by two more wide receivers. Who, you ask?  Why rookie wide receiver Jerreth Sterns and veteran wide receiver Lance Lenoir, that's who.
Now, what can I tell you about them?
For starters, the LA Rams signed them to the practice squad, which means that neither Lenoir nor Sterns were signed directly from another team's practice squad. And that also means that they were not added via the NFL waiver wire. But we can dig a bit deeper, and we shall. Let's talk about rookie WR Jerreth Sterns first: