Los Angeles Rams sign WR Brian Quick to a 1-year deal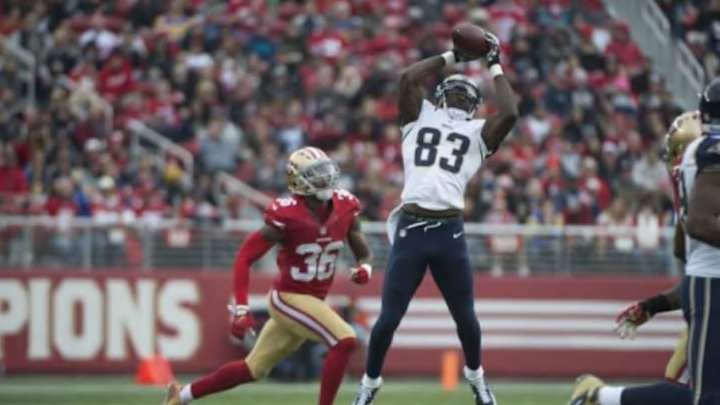 January 3, 2016; Santa Clara, CA, USA; St. Louis Rams wide receiver Brian Quick (83) catches a pass against San Francisco 49ers cornerback Dontae Johnson (36) during the second quarter at Levi /
Per Ian Rapoport: The Los Angeles Rams have signed WR Brian Quick to a 1-year deal. 
I recently wrote an article about a month ago that the Los Angeles Rams must re-sign Brian Quick during free agency, and well they have now. This deal looks to be a prove it contract, as Quick has been injured and not fully productive in the Rams offseason. The Rams have official signed Quick to a 1 year deal worth up to $3.75 million dollars with $1.5 million guaranteed.
Quick has had up and down seasons with the Rams so far. Before getting hurt in the 7th game of the 2014 season, Brian Quick totaled 375 yards, 3 Touchdowns on 39 targets. Quick produced those numbers in seven games before he suffered a shoulder injury that would sit him out the rest of 2014 season.
In 2015 Quick was only targeted only 32 times, but two seasons ago, he was targeted 39 times in just seven short games. If given the chance hopefully Quick can make a name for himself and prove he belongs in the Rams offense.
It's clear the Rams are giving him one last chance. Fun Fact: his last receiving touchdown was recorded on Oct. 5, 2014. This could either be a waste or bargain for the Rams this up coming season.
Brian Quick is off the market and heading to Los Angeles to join the team. Let's see if the Rams can continue to sign much-needed players for next season. Stay tuned for more information on the Los Angeles Rams agreements during Free Agency.