Former Rams head coach Jeff Fisher is never far from memory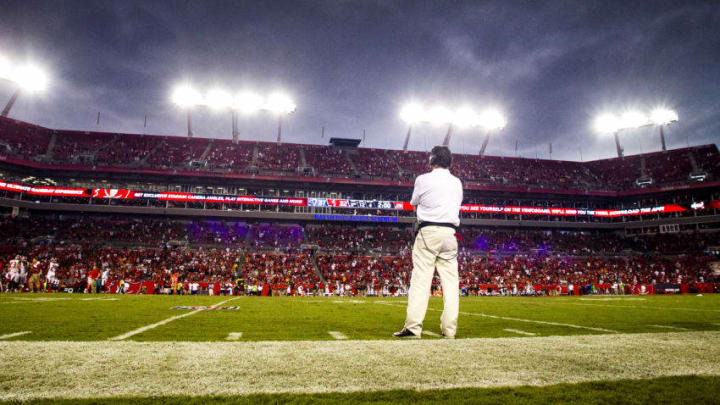 TAMPA, FL - SEPTEMBER 25: Los Angeles Rams head coach Jeff Fisher watches from the sideline when they officials delayed the final two minutes of their game against the Tampa Bay Buccaneers because of a weather delay during their NFL football game at Raymond James Stadium on September 25, 2016 in Tampa, Florida. (Photo by Mark Wallheiser/Getty Images) /
Like a bad penny, Former Los Angeles Rams head coach Jeff Fisher keeps showing up in the oddest of places.
It would seem that with all the success the Los Angeles Rams have experienced in 2017, and may be poised to have in 2018 and beyond, that the name and memory of Jeff Fisher would be satisfyingly in the rear view mirror.
But it's not.
A very good piece by Dan Pompei appeared recently that paints Fisher in a more reasonable light, given the run of success of two former Rams quarterbacks and one current.
As someone who has been very critical of the former head coach in both St. Louis and through the better part of the first year back in Los Angeles, the Pompei piece shows a more measured assessment.
Next: 3 offensive picks for Rams to consider in NFL Draft
No one, myself included, would doubt that Fisher is a good man, AND a good coach.
But the realities of what has transpired in a post Fisher NFL are both fair and reasonable indicators that WITH quarterback talent, he could not win games for the Rams. Comments from last December, where he appeared to take some margin of credit for the recent success in LA, don't help the opinion many fans have of him.
All that said, it is worth noting two quotes in the piece. This first one from Fisher:
""I thought it was a matter of time," you say. "I spent over four-and-a-half years working on that roster and had a lot to do with the way the drafts went. I knew they, or we, were close—a few players away. I'm just really happy for the success the players and coaches and support staff had. It's an outstanding group of people that I worked really close with.""
This one from first year head coach Sean McVay:
""I absolutely think the team was in a good place when we got here, and it's a credit to Jeff and Les being able to accumulate that type of talent, guys you can build around," McVay says. "And what was helpful is we were able to acquire some real good veterans after I got here. Coming here, I can see the respect and admiration the players and everybody who has been around Jeff has for him based on how he treated people, how he operated day-to-day.""
It's been easy to beat on Fisher, and I have.
The idea that he had any fingerprints on what happened in Los Angeles in 2017 has seemed absurd, if for no other reason that the leap from 4-12 to 11-6 including a playoff loss to Atlanta, could not have any reasonable connection to that dumpster fire he helped create in 2016.
But as McVay so graciously and accurately points out, there was a blueprint, muddy as it was.
Fisher does deserve credit for some of it, as does Los Angeles Rams General Manager Les Snead, who is too often left out of the conversation when talk rolls around to the successes of this past season.
Next: Former Rams QB Nick Foles is Super Bowl MVP
Pompei's piece is a fair one, and not one that is a convenient "hot take" that accompanied the documenting of success for Jared Goff, Case Keenum, and Super Bowl MVP Nick Foles. Should success continue to follow each of them, Fisher is sure to be a less than favorable footnote every time they are discussed.
That may not be fair, but in a profession where one is always boiled down to wins and losses, being upside down in the wrong column is how you're ultimately judged.
Fisher is finding that out now.