Los Angeles Rams joint practice with Baltimore Ravens should be entertaining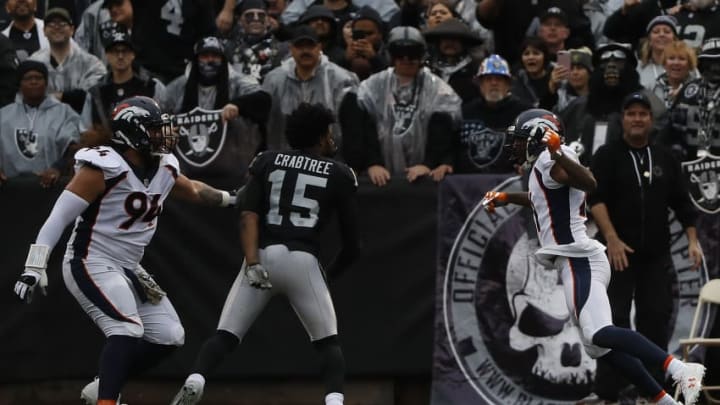 OAKLAND, CA - NOVEMBER 26: Michael Crabtree /
The Los Angeles Rams announced on Tuesday they will have a joint practice with the Baltimore Ravens before their preseason meeting in August.
As hard as it is to believe, the 2018 NFL season will be here before football fans know it, and after last year's surprise success, expectations are extremely high for the Los Angeles Rams heading into their second year under Sean McVay. It was one thing to win the NFC West out of nowhere in 2017, but when seeing how the Rams have been in a win-now mode by bringing on key players like Ndamukong Suh and Brandin Cooks, many consider McVay's team a serious Super Bowl contender at the moment.
Only time will tell when it comes to whether Los Angeles will actually have what it takes to live up to the hype since this is a whole new level of pressure, but knowing McVay, the head coach will make sure his players are prepared enough for the challenge. When considering the original plan was to see the Rams go through a year or two of rebuilding under McVay before the playoff conversation could even be considered a possibility, the thought of this team even being in this current position is truly amazing, and gives fans plenty to look forward to over the next few months.
Speaking of things to look forward to, Los Angeles announced on Tuesday their plans to take part in a joint practice with the Baltimore Ravens in August before the two teams face off against one another during an official preseason game. Even more exciting, Rams beat writer Rich Hammond pointed out the fact that joint practices between these two teams means Aqib Talib and Michael Crabtree will get to see plenty of one another over the course of that week.
Next: 5 way too early predictions for Rams and NFC West
Football fans are well aware of the history between these two stars, although it's tough to imagine tempers flaring between Talib and Crabtree during practice sessions or a preseason game. Then again, when it comes to these two players, anything seems possible, which means both Rams and Ravens fans could be in for quite the entertaining week once August rolls around, as both teams will be looking to make early statements to prove they are in fact playoff contenders.