3 ways to convert your home into an LA Rams mini SoFi experience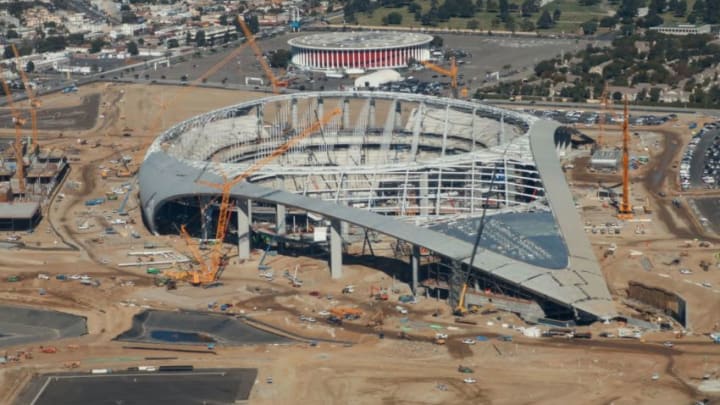 (Photo by Daniel SLIM / AFP) (Photo by DANIEL SLIM/AFP via Getty Images) /
(Photo by John McCoy/Getty Images) /
Surround sound options
NFL viewing from television has pre-programmed many of us to associate the sound of the game in the same direction as the picture. But you can change that. We'd brought forth the concept of using radio broadcasts in place of the audio tracks from the television broadcast to help your home experience.  Much like the video section, let's propose taking it up a notch.
In my "audio/video" phase of technology, the state of the art video experiences included some pricey version of the theatrical surround sound. That surround sound system was an audio sound system of multiple speakers designed and balanced to give the listener/viewer a three-dimensional effect. Less expensive systems simply piped the same sound to all speakers. But more costly versions directed various sound frequencies and decibels in separate bundles, magnifying the sound of echo chambers, video motion, and visual effects.
Cost-effective options
But now, those high-priced options are available at a fraction of the former cost. And for the cost, if you can swing it, do it. The magnification of hearing the sounds of football play in three dimensions is worth the pennies invested.  In today's technology, the cost of a surround sound system starts as cheaply as $50. Of course, more bells and whistles can drive that price to $200 for a fully-featured system. But that is approximately one-tenth of the cost of a lesser featured system just ten years ago.
Keep in mind that these investments are not just football benefits. You will have a newfound appreciation for all of those movies you've been streaming.  For a special treat, toss in a Marvel or action-adventure movie, dim the lights, and experience the beauty of sound as you have never experienced it before. Surround sound is truly just that, sound surrounding you. Once you've had a taste of it, you will never go back to one-dimensional television sound again.