LA Rams Injury Update: Henderson second RB w sprained ankle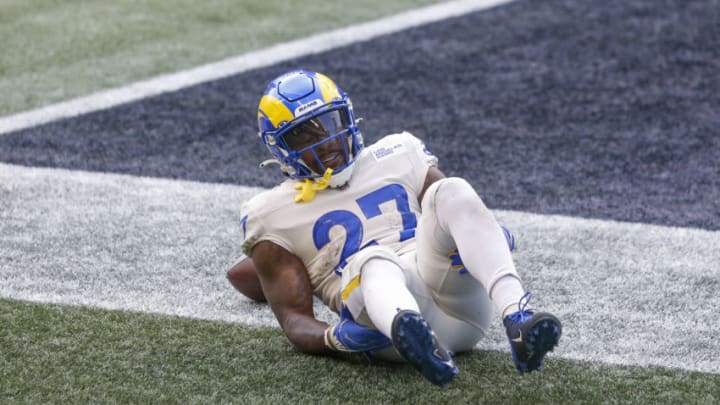 Mandatory Credit: Joe Nicholson-USA TODAY Sports /
LA Rams Injury Update: This week RB Darrell Henderson suffered a high ankle sprain, depleting the team's rushing offense.
The LA Rams are suddenly pummeled by untimely injuries. And the problem is that no player who was anticipated to be 'out for three weeks' has shown any signs of returning to the active roster to reinforce the team. And so, the team's injured reserve roster continues to grow. While we have yet to learn of starting quarterback Jared Goff's status, we do know that he suffered a broken thumb on his throwing hand.
Joining him among today's walking wounded is running back Darrell Henderson. Henderson has been one of three running backs among the team's RUN-DMC committee. But like rookie Cam Akers on the previous week, he suffered a high-ankle sprain.

And so, the Rams are now down to one starting with experience, veteran Malcolm  Brown.
More than he bargained for
I love the explosiveness of a healthy Darrell Henderson. But at just 5-foot-8 and 208-pounds, his usage in a game should emulate that of Darren Sproles. In both cases, the grinding of 120 plus carries in a single season is too much. Instead, a blend of running and receiving out of the backfield can generate nearly 1000 yards of offense each season.  Sproles never carried the ball more than 94 times in a season over his entire 15-year career.
Henderson has already carried the ball 138 times for the Rams this season, the equivalent of two seasons' worth of work for Sproles. That is due to the fact that the Rams failed to give rookie running back Cam Akers the ball early in the season. Each week's delay gave Akers one less week of NFL experience, allowing him to grow stale. And each week where Henderson was the primary back overtaxed his smaller frame.
Play the long game
Yes, Henderson is an incredible runner. But only if the Rams realize how to optimize his career. Sure, run him 200 + times in a season could net 1000 yards rushing, but for only two-three seasons at best.  If the front office is playing the long game, then the Rams need to play along with that strategy too.
The Rams lost Cam Akers last week. And despite the shortage of healthy rushers, the team has not lined up rookie Xavier Jones on offense even once this season. Even if he is far inferior to his teammates, the Rams placed Jones on the active roster. As such, the team needed to give him a taste of carrying the ball somewhere in 15 games prior to now.  Akers is out. Henderson is out. The Rams are out of options, and it's their own damned fault.