LA Rams' rafters: Why are those jersey numbers retired?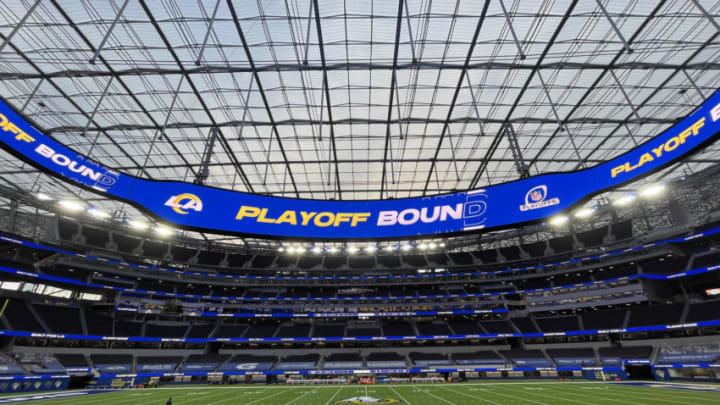 Mandatory Credit: Kirby Lee-USA TODAY Sports /
(Photo by Hulton Archive/Getty Images) /
West coast Waterfield
When the Rams announced that they would move to LA for the 1946 NFL season and the team compiled a 6–4–1 record, Waterfield further cemented his reputation as one of the NFL's most talented players. As a passer, he led the NFL in pass attempts (251), completions (127), and passing touchdowns (17) and ranked second with 1,747 passing yards and a 67.6 passer rating.
As a kicker and punter, he led the NFL with 37 extra points out of 37 attempts – Mr. Automatic never missed a one – and a field goal percentage of 66.7%. He finished third in the league with an average of 44.7 yards per punt. At the end of his second season, he was selected as the first-team quarterback on the 1946 All-Pro Team.
More from Rams All-Time Lists
In the fall of 1951 Waterfield, started 10 of the Rams' 12 games at the helm, and lead the team to an 8–4 record and the NFL championship. During that same1951 season, Waterfield led the NFL with an 81.8 passer rating, an average of 17.8 yards per completion, and 13 field goals made. He ranked second in the league with 98 points scored.
He also had the longest pass in the NFL during that season, a 91-yard touchdown pass to Elroy "Crazy Legs" Hirsch in a 42–17 victory over the Chicago Bears. At the end of the 1951 season, Waterfield played in his second Pro Bowl and was selected by the UP as the second-team quarterback (behind Otto Graham) on the 1951 All-Pro Team.
In 1952, Waterfield shared the Rams' quarterback job with Norm Van Brocklin, and the Rams compiled a 9–3 that year but lost a divisional playoff game against the Detroit Lions.  When he announced his retirement that year, the Rams honored him by declaring Bob Waterfield Day for their final home game and retired his jersey number 7.
The precedent was now set – the first Ram to enter the pantheon. Rams jersey number 7 was hoisted to the rafters.
After his playing career ended, he continued his service to the team, acting as its kicking coach from 1954 to 1955 (back then it wasn't called special teams), its quarterback coach in 1958, and its head coach from 1960 to 1962. He was also an accomplished actor and movie producer in Hollywood and was married to movie actress Jane Russell from 1943 to 1968.