LA Rams preseason primer: Rams sit 35, Chargers sit 4?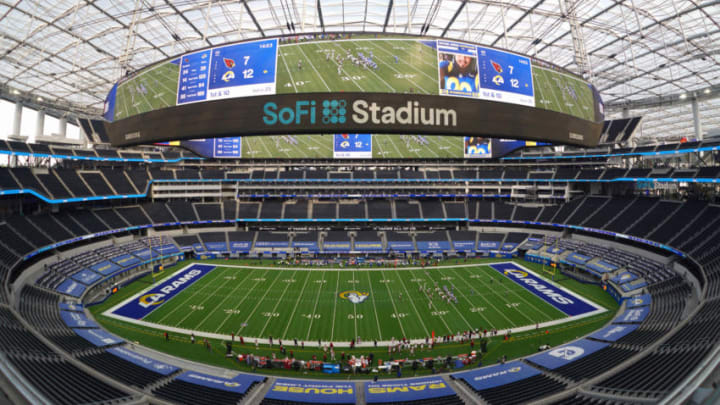 Mandatory Credit: Kirby Lee-USA TODAY Sports /
Mandatory Credit: Kirby Lee-USA TODAY Sports /
The LA Rams have not been in a situation that they find themselves today in nearly two years. If you wish to be more dramatic, that is 24 months, or 104 weeks, or over 730 days. That's a lot of time between preseason games, don't ya think? Well, that's just the way that the cookie crumbles in the new NFL age of competing under the coronavirus pandemic scare. A year ago, the only defense was quarantining, safe distancing, and wearing masks. This year, the arrival of vaccinations has reopened the possibility of playing preseason games safely.
Two years' time can allow enough time to change a lot of things. For starters, the LA Rams now play at the crown jewel of the NFL, SoFi Stadium. While fans have finally been permitted access to view its architectural and technological wonders, this is a stadium that offers plenty of subtle innovations that have blended the structure into a very energy-efficient sport and entertainment complex. This game will be its maiden voyage with fans attending the game.
New faces
Looking for the stars of the team? Sorry to disappoint, but..? The LA Rams won't be playing a number of the offseason acquisitions in the first preseason game, so don't be disappointed when you don't see veteran quarterback Matthew Stafford slinging it to wide receiver DeSean Jackson.  But there will be approximately 65 players seeing action for the Rams in this one, including nine rookies from the 2021 NFL Draft, as well as 14 undrafted free agents signed to the teams after the draft. While there will be lots to see and digest, keep a sharp eye on the Rams rushing attack. The team will be seeking young players to step up and handle a bit of the workload from injured starter Cam Akers. Names to watch? I like Xavier Jones, while many others lean towards Jake Funk. I think it's due to that NFL-ready name of his.
Attending the game?  Dress comfortably. The Saturday evening weather is currently forecast to be mostly clear throughout the evening, with a pleasant evening temperature projected to fall from the low 70s to the mid-60s. Falling temperatures will be accompanied by lighter winds will lessen daytime speeds of 10-15 miles per hour into the 5-10 mph range by game time at 7:00 pm PT. The game should be ideal for the first preseason game of the year.