Will the real LA Rams starting OLBs stand up?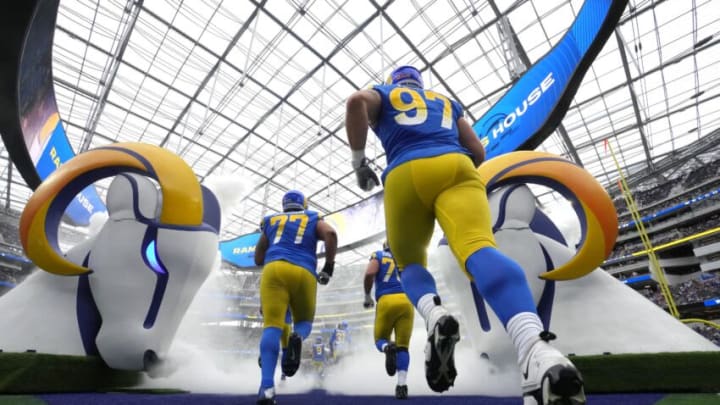 Mandatory Credit: Kirby Lee-USA TODAY Sports /
(Photo by Ronald Martinez/Getty Images) /
Positive Rams draft developments
While this game did not result in a victory, there are plenty of positive outcomes from this one. But rather than talk philosophies, having creativity restored, and a simple matter of just playing football with fun, let's focus on a simple and practical matter.
Selecting an NFL-worthy outside linebacker is such a hit-or-miss undertaking. The Rams, a team that has had success finding late-round gems in the NFL draft, has struggled to find key contributors. One of the more recent selections to the Rams roster, the 2021 seventh-round selection OLB Chris Garrett, was released in August 2022.
With the free agency loss of Ogbonnia Okoronkwo and Von Miller, as well as the mid-season release of Justin Hollins, the Rams have essentially cleared the house of almost all Edge rushers who played for former DC Brandon Staley, save Leonard Floyd and Terrell Lewis.
Hoecht stock skyrocketing
So the skyrocketing stock of Michael Hoecht right now is more than just great NFL highlight footage. His performance may allow the Rams more flexibility in which positions are targetted as 'gotta get guys' in the 2023 NFL Draft.
While we have assembled a fairly comprehensive set of 50 talented rookie prospects who truly fit the Rams type of players, Edge rushers are deep in this draft class and could be found on Day 3 when the Rams have eight of their ten selections to use.  If the Rams enter the draft without a need to find a rookie Edge rusher who can immediately start for the Rams, so much the better.
While some may still have the jury out on the making of Michael Hoecht at the position, he has already taken over at second place among all Rams outside linebackers at sacking the quarterback for the entire 2022 NFL season with two quarterback sacks. That, in my opinion, should earn him a starting role for the 2023 season.
So what of the other outside linebackers on the roster?