Two to Five ex-Rams will play in the Super Bowl this year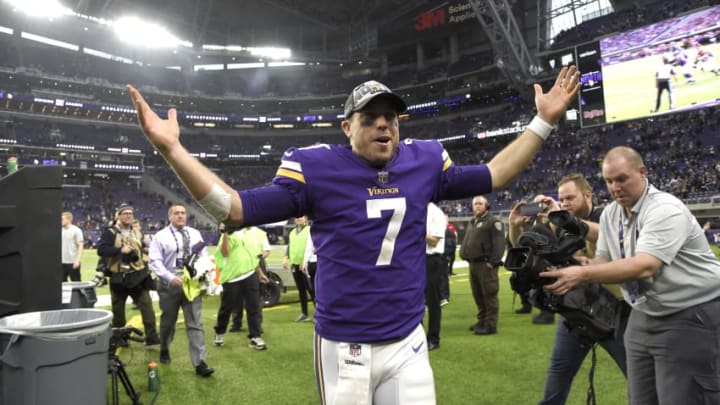 MINNEAPOLIS, MN - DECEMBER 17: Case Keenum /
Three of the Four Teams in the Championship Games Have Former Los Angeles Rams Players, Proving That Jeff Fisher Could At Least Identify Skilled Players.
Most Los Angeles Rams fans are aware of two former Rams quarterbacks who now are playing for a chance to go to the Super Bowl: Case Keenum and Nick Foles. Both have taken their teams to the NFC Championship game this year.
Yet there were a number of other ex-Rams represented in both the AFC and NFC Championship Games. Since three of the four teams have former Rams, we are assured that some former Rams will play in the Super Bowl this year (only the Jacksonville Jaguars have none).
Here is the list of ex-Rams players who will play in the NFC and AFC Championship games this weekend.
Case Keenum. Keenum joined the Houston Texans in 2012, but did not start or play in any games. The following year he started eight games, and then for two and five games in the next two years respectively. With the Rams for two seasons (2015 in St. Louis and 2016 in Los Angeles), he started five games in St. Louis and nine in Los Angeles until Fisher named Jared Goff the started for the rest of the season. Picked up by the Vikings for this year, Keenum took over for Bradford after two games, throwing for 3547 yards, 22 touchdowns and seven interceptions.
Related Story: Hard not to cheer for former Rams quarterbacks Keenum and Foles
Sam Bradford. Drafted by the Rams in 2010, Bradford had an excellent freshman year, but significant injuries during the following years led to him being traded to the Philadelphia Eagles for the 2015 season. The next year found in him Minnesota, where he played eight games. This year, he only played two games before being injured again, throwing for 382 yards, three touchdowns, and no interceptions.
Former Rams on the Eagles
Nick Foles. Drafted by the Eagles in 2012, he became the starter and had a record-setting year in 2013. But his play fell off, and he played the 2015 season for the Rams in St. Louis, playing 11 games and throwing for 2,052 yards and seven touchdowns. The next year found him in Kansas City, where he played three games, and then went back in Philadelphia. This year, in relief of Wentz, he has thrown for 537 yards, five touchdowns, and two interceptions.
Chris Long. Drafted by the Rams in 2008, he played well, though perhaps not as well as was expected during those years. In 2016, he wears traded to the New England Patriots and won a Super Bowl. This year, he played in 16 games for the Eagles and had one forced fumble, five sacks, 19 tackles and nine assists.
Rodney McLeod. Drafted by the Rams in 2012, he played four seasons in St. Louis before being traded to the Eagles in 2016. This year, he has three interceptions, one forced fumble, two fumble recoveries, with 35 tackles and fifteen assists.
Former Rams on the Patriots
Danny Amendola. Drafted by the Rams in 2009, he began playing for the Patriots in 2013. This year, he had 659 yards receiving and two touchdowns.
More from Ramblin' Fan
Kenny Britt. Drafted by Jeff Fisher and the Tennessee Titans in 2009, Fisher borough him to the Rams in 2014. The Sean McVay era ushered him out, where he spent part of this season with the Cleveland Browns before being released and picked up by the Patriots in the last three games of the season. He has 23 yards receiving and no touchdowns.
Fisher's Legacy
Despite the fact that Fisher's legacy with the Rams being mostly negative, especially when it comes to a winning record, offense, and developing quarterbacks, many of the players he drafted are playing at a high rate—and somewhere between two and five are going to the Super Bowl. Many others are playing on other teams who did not make or are out of the playoffs, and a lot are still on the Rams and have garnered awards this year they never did under Fisher.
Fisher appears to have been quite good at spotting talent, but less effective at developing or using it in his players.