3 ways to convert your home into an LA Rams mini SoFi experience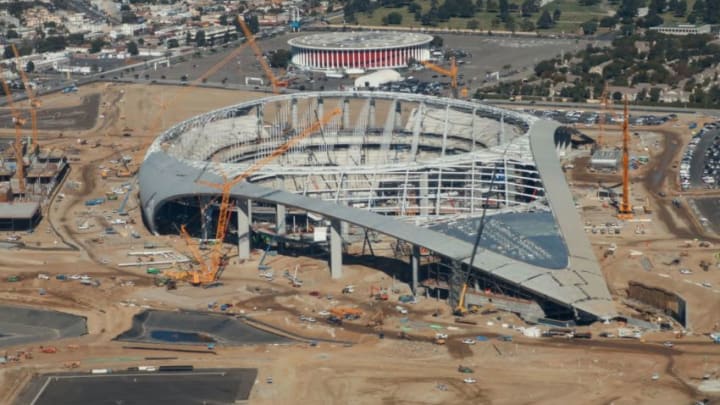 (Photo by Daniel SLIM / AFP) (Photo by DANIEL SLIM/AFP via Getty Images) /
(Photo by Harry How/Getty Images) /
Social media on game day
One of the most enjoyable elements of being in the stadium is the ability to sit and tweet from your seat. That live-action thrill of watching a game live, and then the instant reaction, can become a cherished virtual journal of the day's highlights. But it needn't happen in the stadium only. Your home can be the command central of all your social media activity on NFL game day.  But what does that mean?
For starters, we've talked about the use of Zoom, Skype, Team, or any number of social media options to bring the virtual presence of friends into your living room. But why stop there? Create an LA Rams fan group on Twitter, or on Slack. That allows you to group chat on game day, much like you would in the stands at SoFi.  All the while, you will be at a safe distance, will maintain your self-quarantine, but can enjoy the game and the reactions of your friends. Win/win.
Fun is the goal
Of course, we cannot let game day escape without discussing the glorious menu of tailgating parties. That's why we've covered three tailgating menus to enjoy from your kitchen. And for those who are not quite ready to create a mini-SoFi experience in the home, we've outlined three ways to optimize your LA Rams virtual football experience. The goal is not to create a lot of stress, cost, or work to your day. Rather, it's to add a bit of innovation and fun. It doesn't take much to get there, but it's worth the effort to do so.
Many of us will not have an opportunity to experience SoFi Stadium this year. While that's disappointing, it need not trigger anger or frustration. SoFi will be standing in 2021, or 2022 for that matter. So why not make the best of the situation and aim for having fun today.  Much like the Rams season, the projection of not attending a home game may seem disappointing at first. But after the dust settles, the fact remains that this season can still be a great deal of fun.  It will just take a little extra work to get there.