Darrell Henderson Jr: Is LA Rams running back's time running out?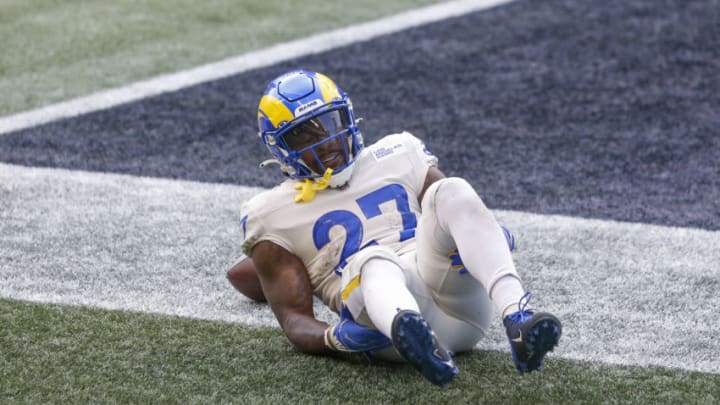 Mandatory Credit: Joe Nicholson-USA TODAY Sports /
Mandatory Credit: Kirby Lee-USA TODAY Sports /
How far can the Rams go in 2022 on the ground?
With the LA Rams already needing to potentially replace several free agents, including Sony Michel, the LA Rams will turn to the NFL draft to augment the running back room. Of course, the team will need to determine how effective their existing running backs can carry the ball.
And, of course, the team must determine if their inability to move the ball on the ground in the NFL Playoffs was due to the rusher, the blocking, or the play design. That's a lot to dissect, analyze, and process, in time to make the right moves in the offseason.
If the LA Rams are drafting another running back, as some Mock Draft's show, then Henderson Jr. becomes even more expendable as Akers will still have another year on his rookie deal, and the new rookie will have a cheaper four-year contract. Of course, Henderson does offer some value in the passing game as well.  Whether or not that is deemed worth keeping Henderson on the roster is a decision to be made at a future point in time.
On the other hand, Henderson Jr. becomes a potential trade piece to bring in a veteran offensive lineman or pass-rusher for the next playoff run or a draft pick to add more depth, similar to the trade that brought in Michel in the first place. He is an accomplished change-of-pace back, very akin to the roles of former NFL RB Darren Sproles or Dave Meggett.
When it comes to Henderson Jr., the running back's time in Los Angeles appears to be at risk of running out. The LA Rams must decide whether to keep him around as a low-cost option at running back/receiver option or trade him before his contract expires.