LA Rams schedule: The Rams have one tough row to hoe in 2022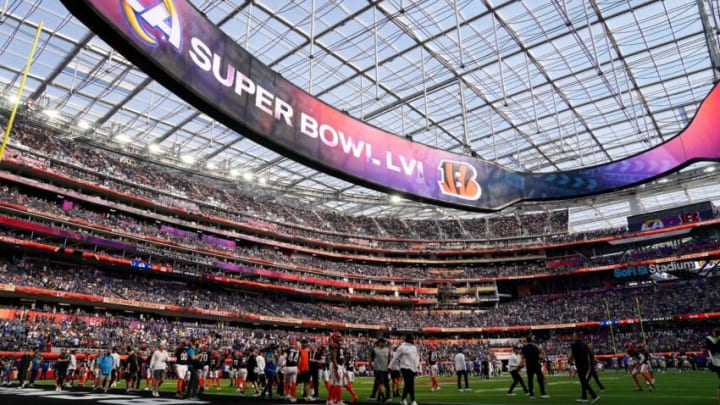 General view of the field as the Los Angeles Rams and the Cincinnati Bengals warm up before kickoff of Super Bowl 56, Sunday, Feb. 13, 2022, at SoFi Stadium in Inglewood, Calif.Nfl Super Bowl 56 Los Angeles Rams Vs Cincinnati Bengals Feb 13 2022 0247 /
The LA Rams knew from the moment that they won Super Bowl LVI that the 2022 NFL season would have it's own new and formidable set of challenges. There was the first gauntlet of trying to keep the front office and coaches together. How did that go? Well, let's just say that change is inevitable.
Then there was the pledge after winning Super Bowl LVI  of "Run It Back!" led by outside linebacker Von Miller. How did that work out? Well, Miller did what almost any one of us would do. He took the money and ran off to play for the Buffalo Bills.  But he was not the only problem. As many as 12 LA Rams players signed contracts with other teams, or have yet to sign with any team.
But there was more.
Because the LA Rams were the best team in the NFL for the 2021 NFL season, the team would be the last team to make their selections in the 2022 NFL Draft. Well, okay. Now I'm being melodramatic. The truth is that the penalty for the Rams success was born by the Detroit Lions, the Denver Broncos, and the New England Patriots. The Rams only held their fifth-round and seventh-round picks from their original allotment.
Rams schedule is NFL's toughest strength of schedule
Finally, there was the 2022 NFL Schedule. And folks? This is one grueling matter of facing not only the NFL's best teams, but the teams in the NFL who arguably had the best off-seasons of the bunch. Don't take my word for it. Just check this out:
The LA Rams 2022 schedule has no cake walks. There are no teams that jump off the page that screams automatic win this year. There are no games on the calendar that could be a spot when the Rams have a chance to pull starters off the field and cruise to victory.
The Rams will once more face a 17-game season where victory can be emerging relatively uninjured as much as the final score of the game. The ability to stay healthy or to at least be able to make rapid roster moves to add depth to dangerously thin positions on the depth chart are critical.
Thankfully, the LA Rams do have a couple of minor breaks. Due to the team's co-habitation of SoFi Stadium, the Rams will play 10 games at SoFi Stadium, with the Rams game against the LA Chargers categorized as a road game. It may not seem like much, but it could prove to be the difference of earning a coveted top-seed in the upcoming NFL Playoffs, or playing the post-season on the road.
Or staying home altogether.